Oh Slime! That sticky, gooey, and stretchy fun stuff. It's all the rage with kids these days. It's all over social media, and every other kid has probably tried making their own, at least once. We've tried several recipes ourselves. Most with simple ingredients that can be found around the house, and all pretty easy to make. They all made slime, but every one included a pretty messy process.  While the recipe with the household cleaner Borax seems to be the more popular one out there, we've stayed away from using it due to safety concerns.
Zoë has been bugging me to let her make more slime for weeks. I've been giving her silly excuses and putting it off, because in reality, this momma just can't deal with all the sticky mess. The last one we made left me cleaning up slimy residue for a while, and worse, it left some food coloring stains on some of her clothes, too! Which is why I was ecstatic to find this new recipe. No Borax, no detergent, no shaving cream, and no food coloring, this 3-ingredient slime recipe is not only easy to make, it's also a mess-free and safer alternative for kids! And the absolute best part? It's sparkly and glittery, too. Perfect for my glitter-lovin' princess!
Check out how we made this easy Mess-Free Glitter Slime!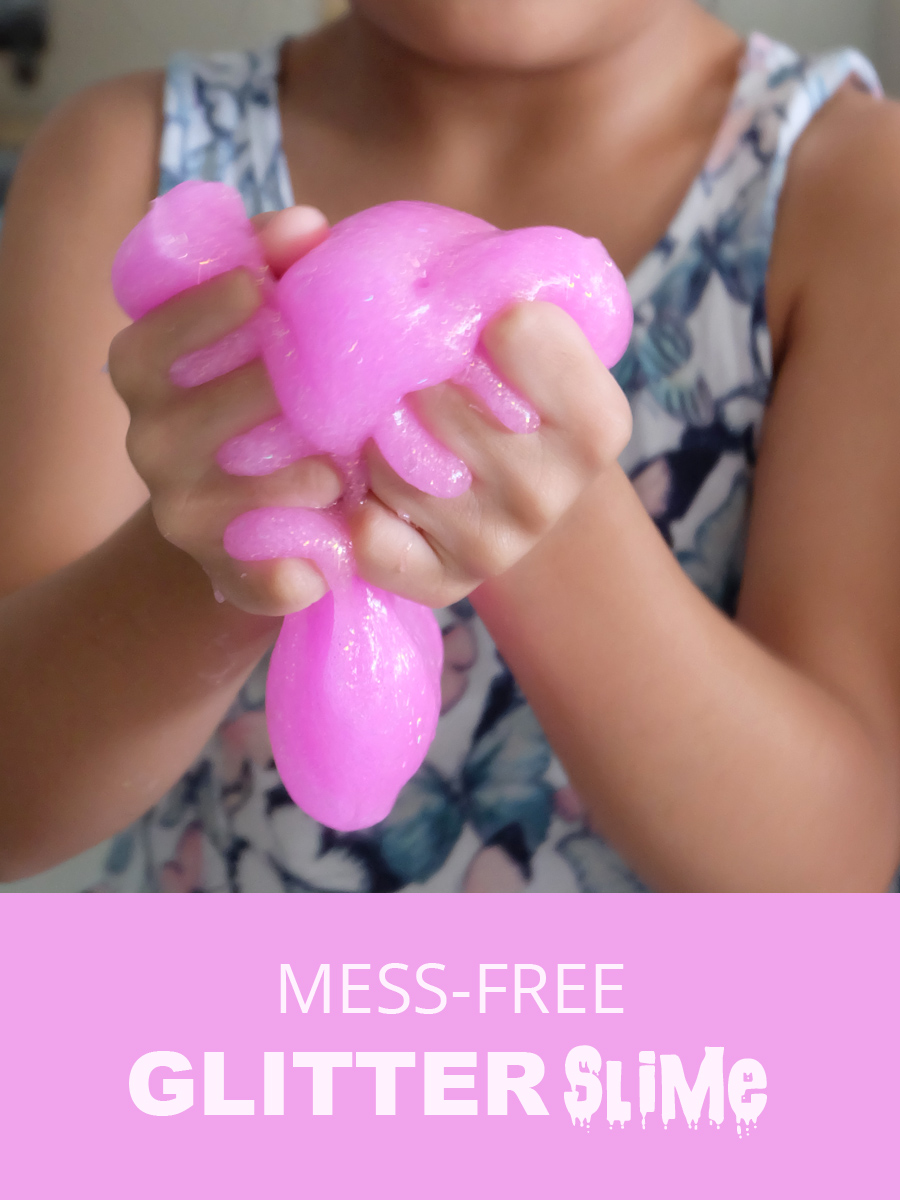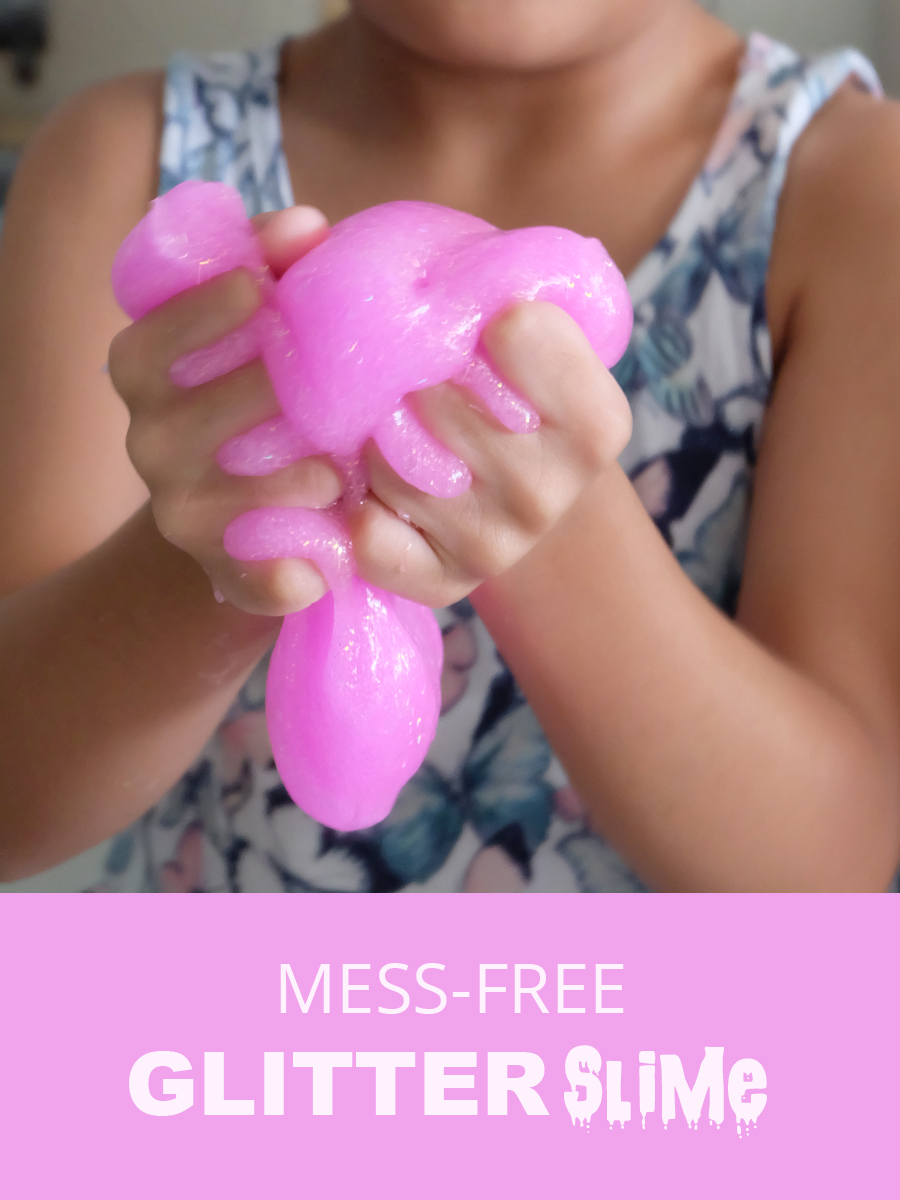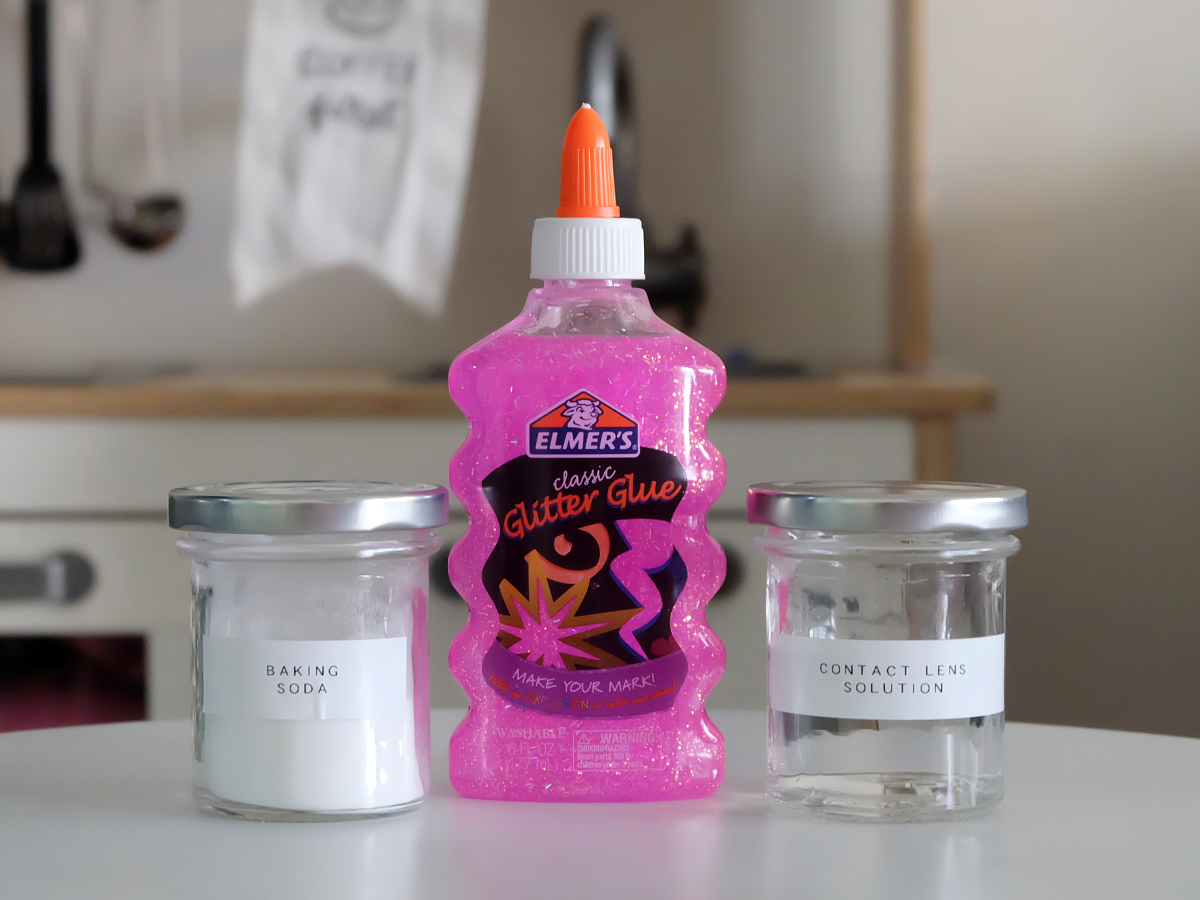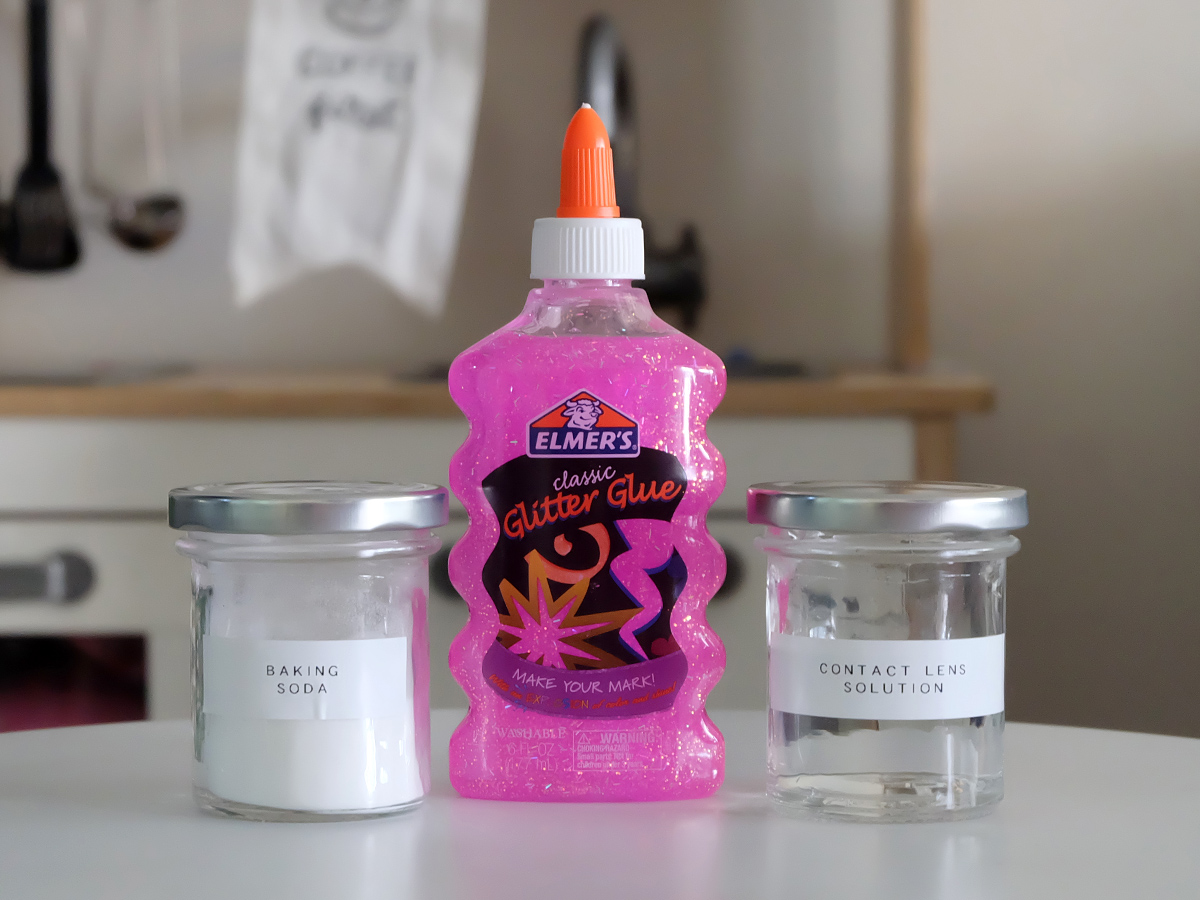 Ingredients:
6 fl oz Glitter Glue
1/2 TBSP Baking Soda
1 1/4 TBSP Contact Lens Solution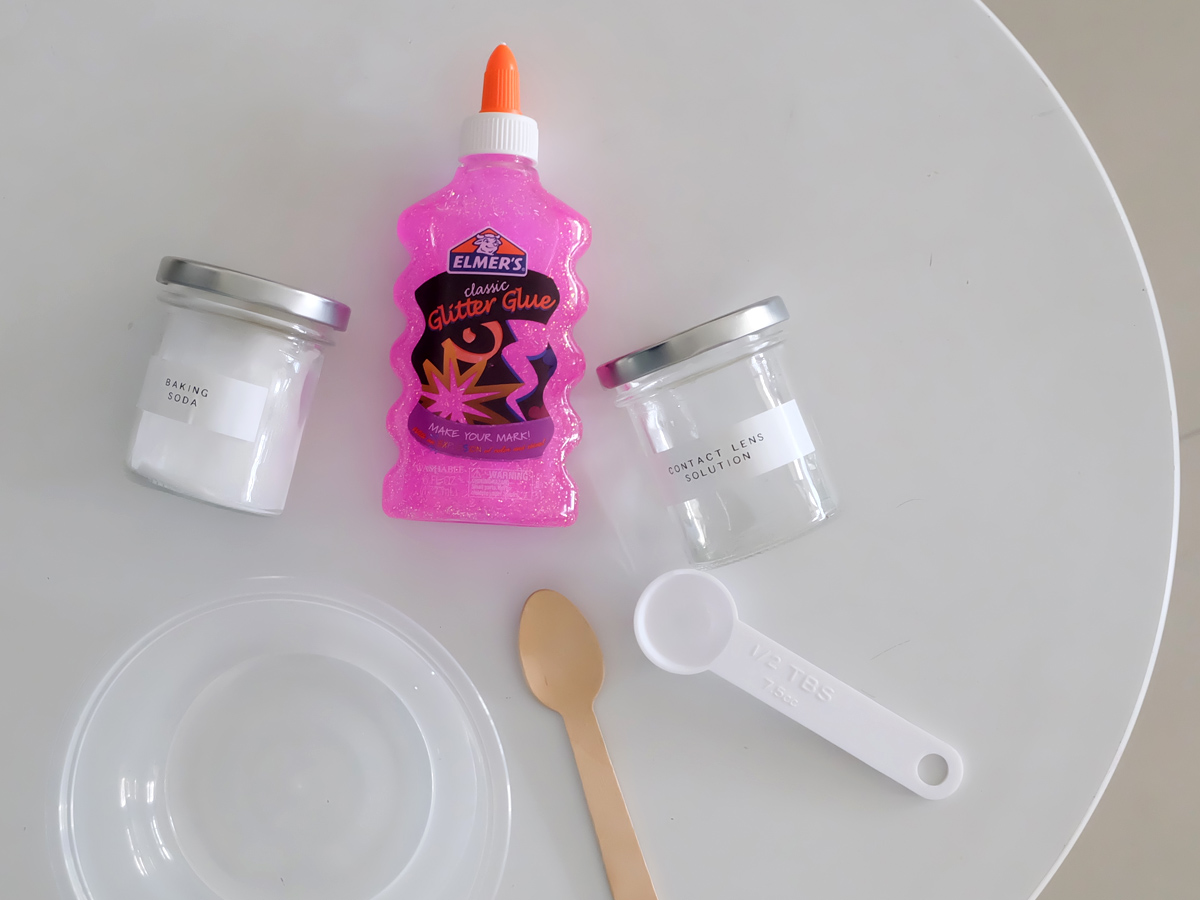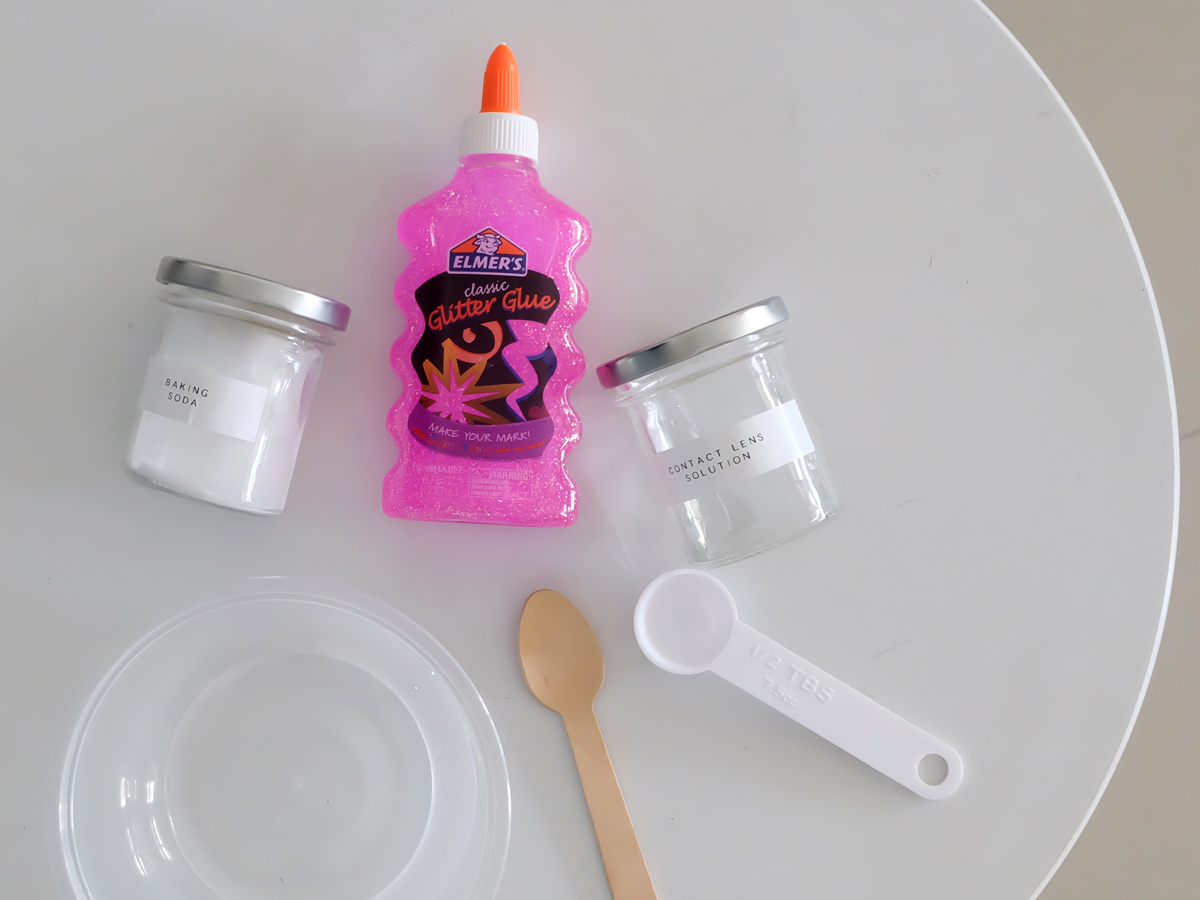 Making Mess-Free Glitter Slime
We used Elmer's Classic Glitter Glue in pink for this batch. We love Elmer's glitter glue, because it skips the extra step of having to add glitter separately to plain glue. Plus points that they come in pretty colors, too! No need to use food coloring. No need to worry about staining hands and clothes in the process. Saves time and effort, plus no mess? Mom approved!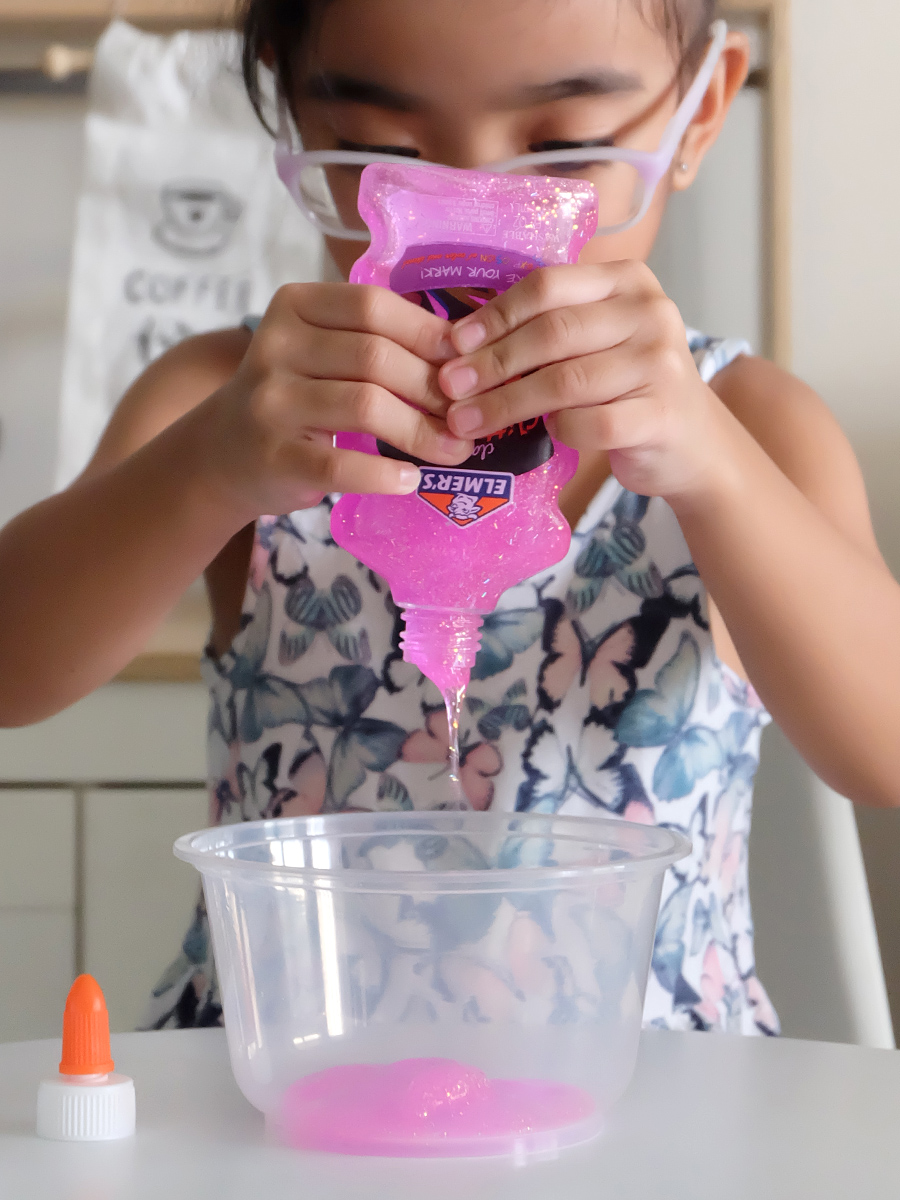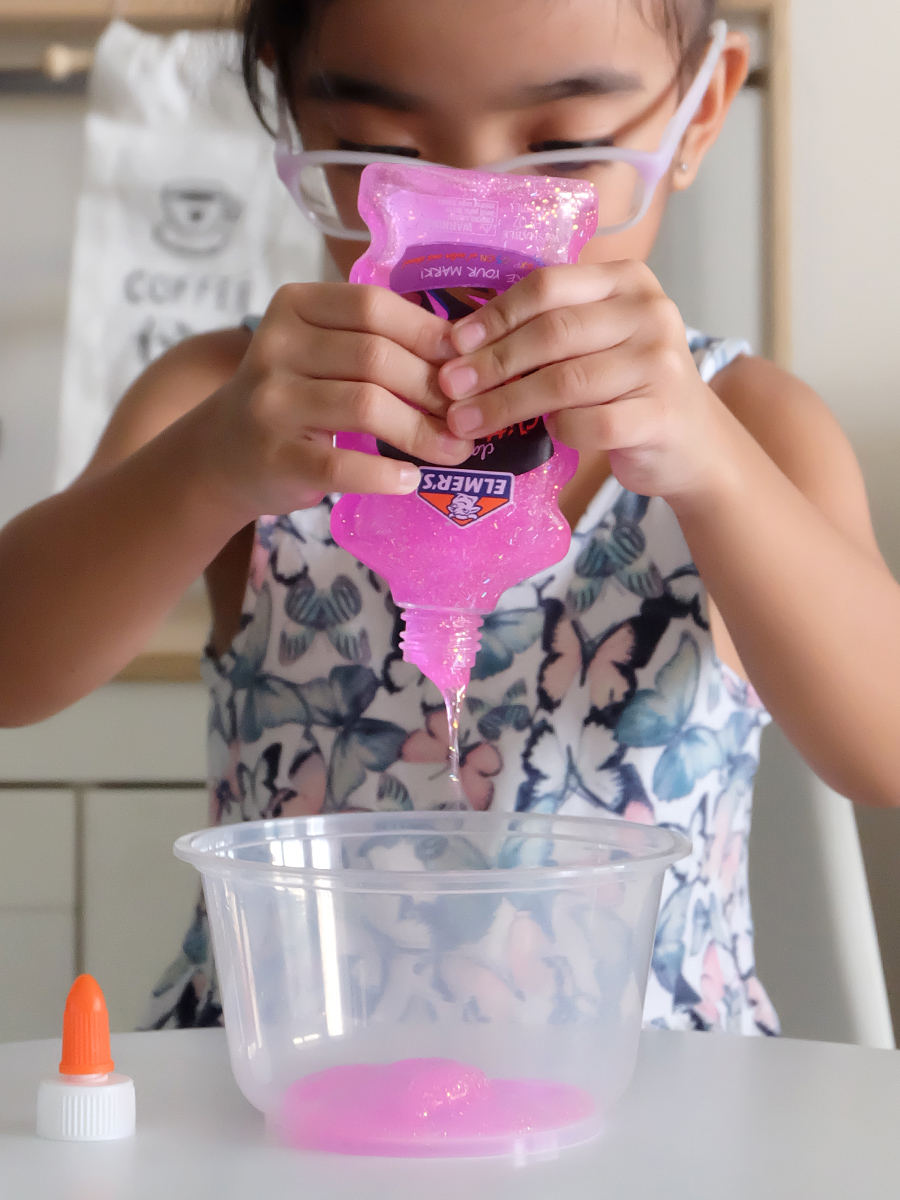 To start off, we needed to empty the entire bottle of glitter glue into the bowl.  Zoë was happy enough to do all the work for this. Since all the ingredients are safe and kid-friendly, I allowed myself to sit back and let her enjoy her fun little Science experiment on her own.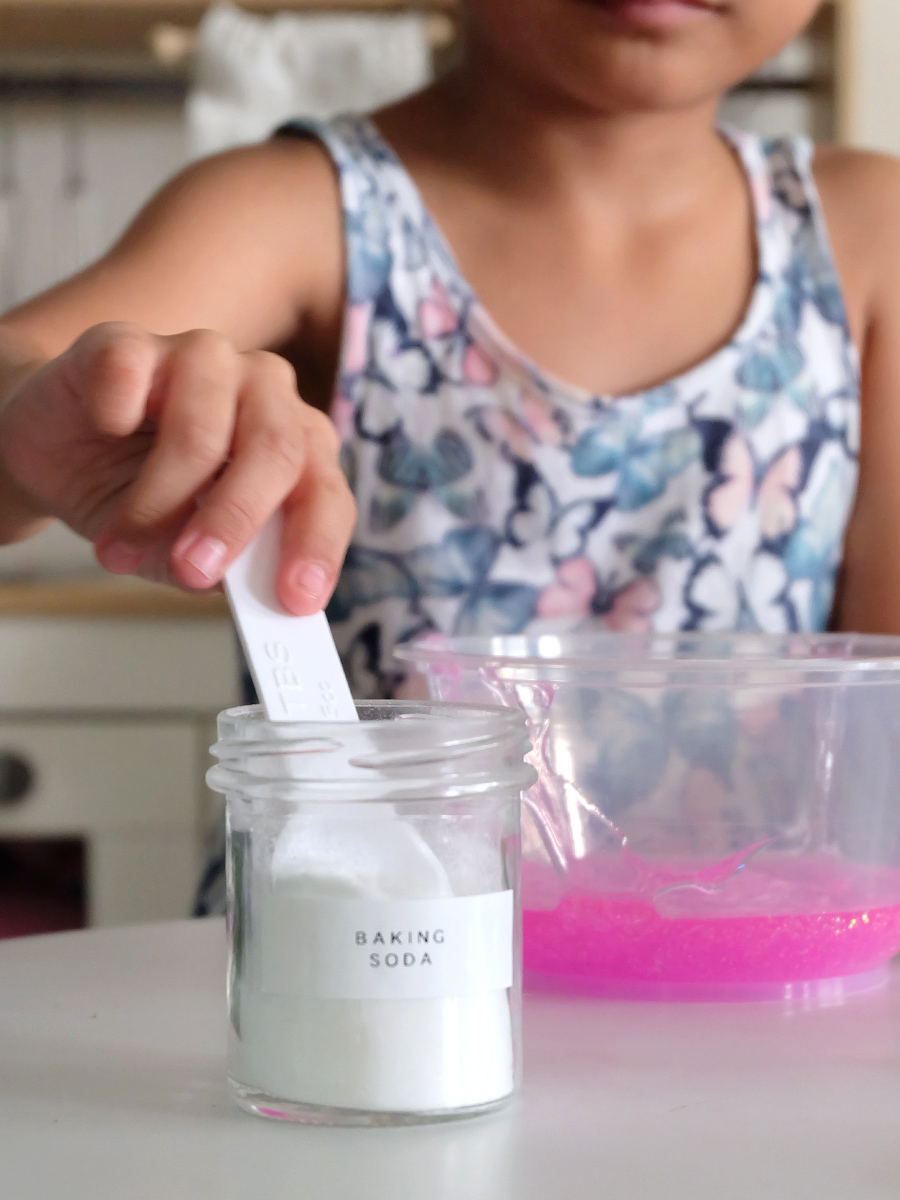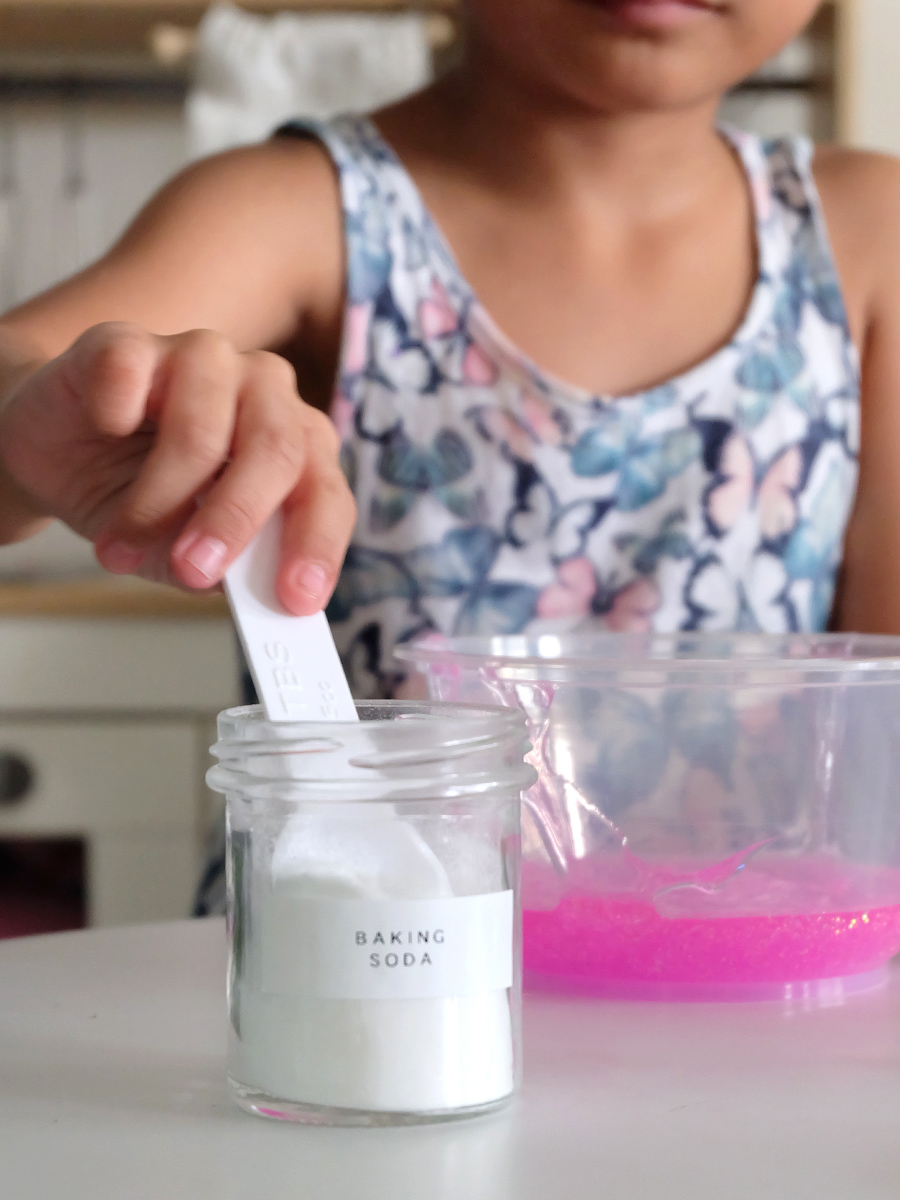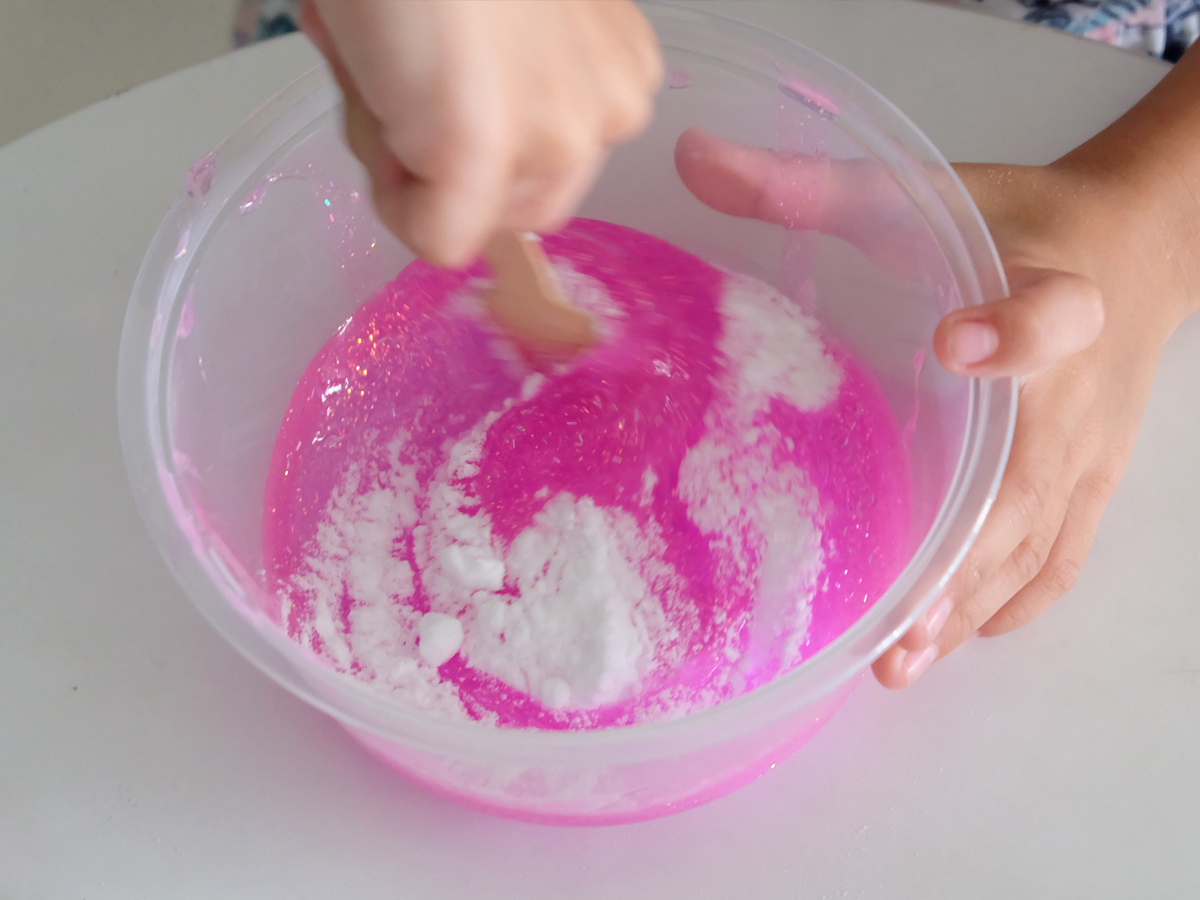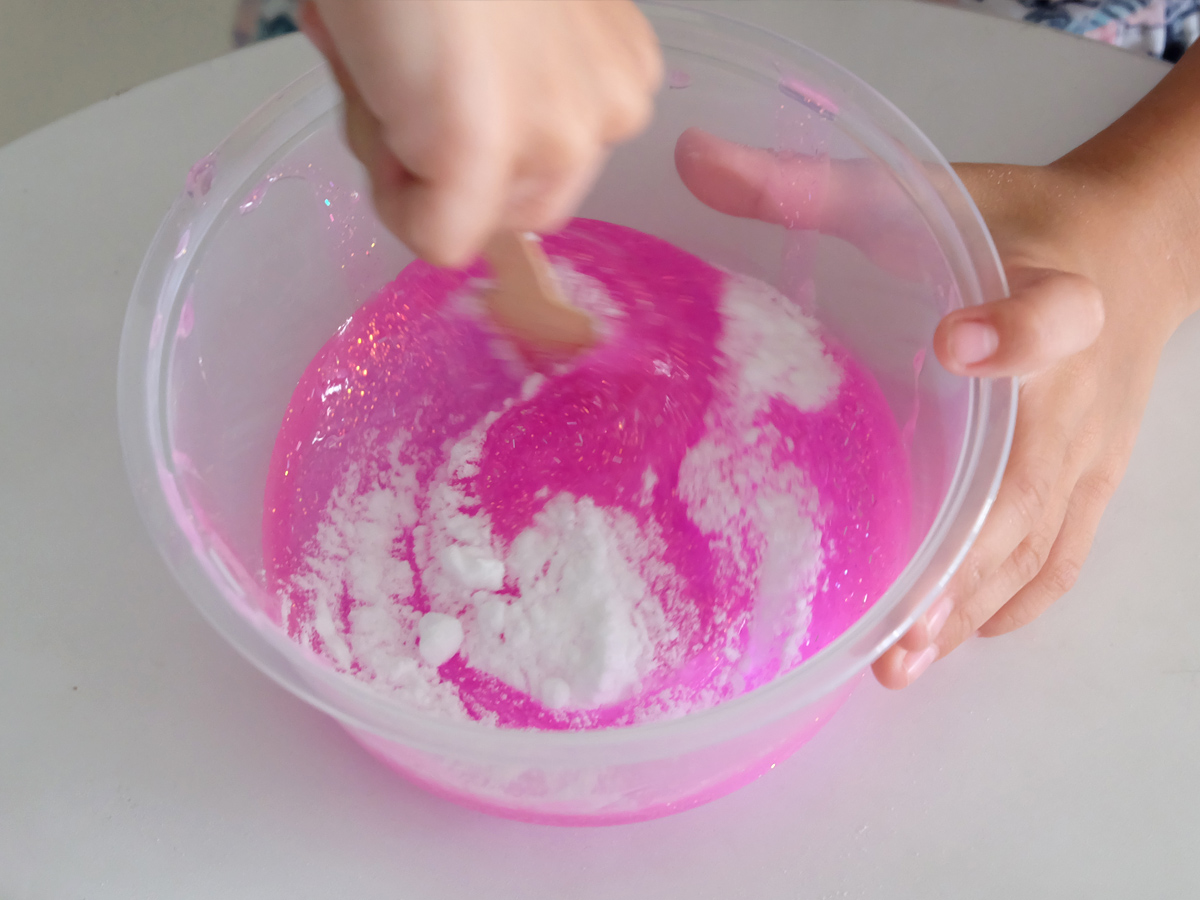 Once all the glue was ready, Zoë measured 1/2 TBSP of baking soda and added it to the glue. She stirred the ingredients together, making sure everything was mixed well.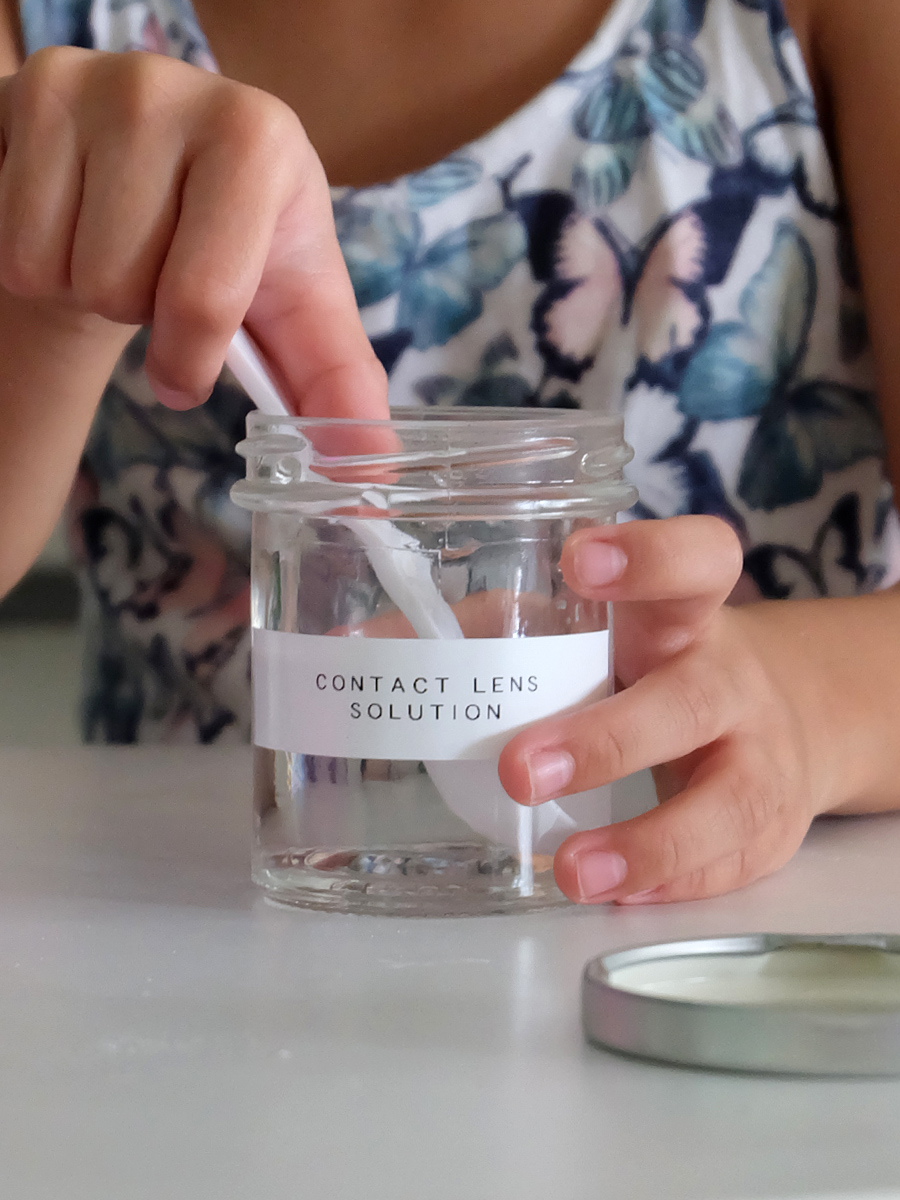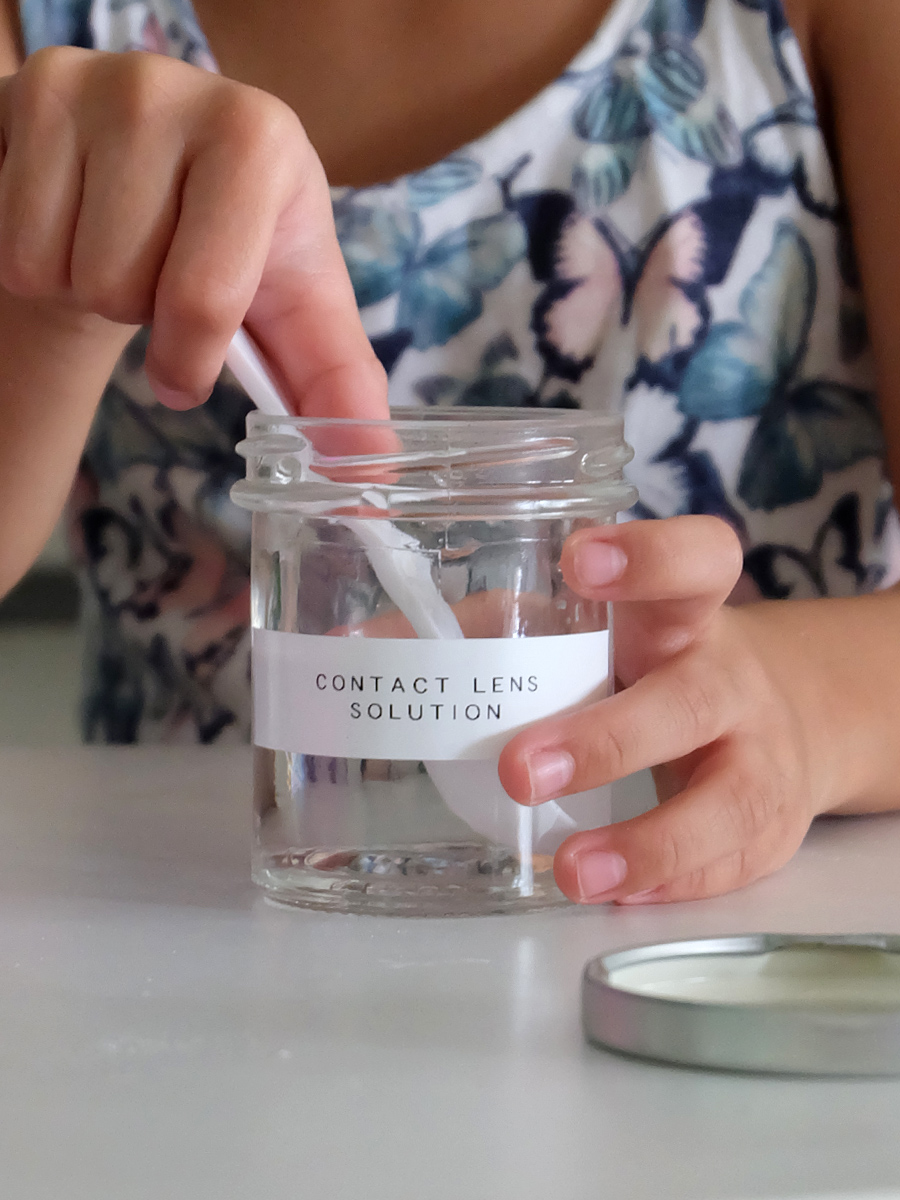 After mixing the baking soda with the glue, it was time for the magic ingredient: contact lens solution! Measuring 1 TBSP of the solution, Zoë added it to the glue mixture.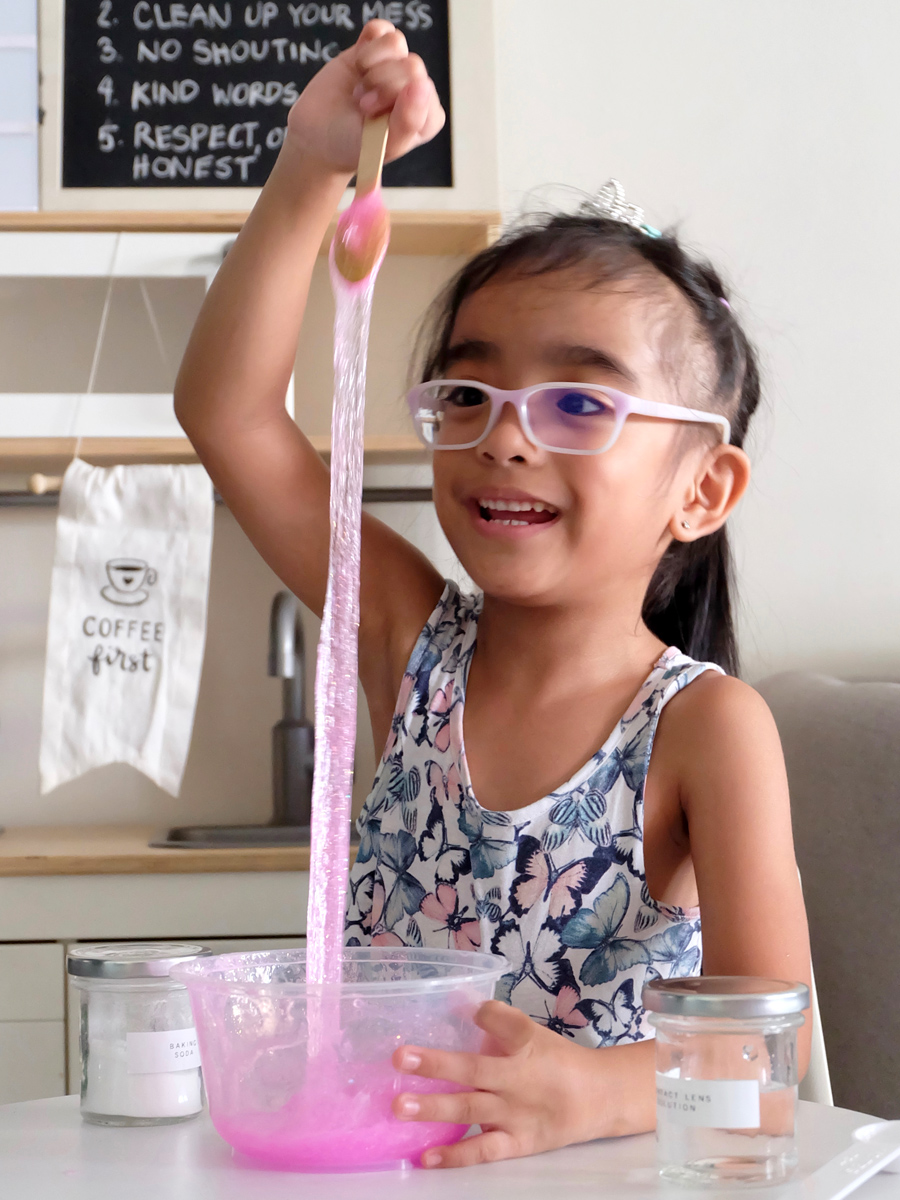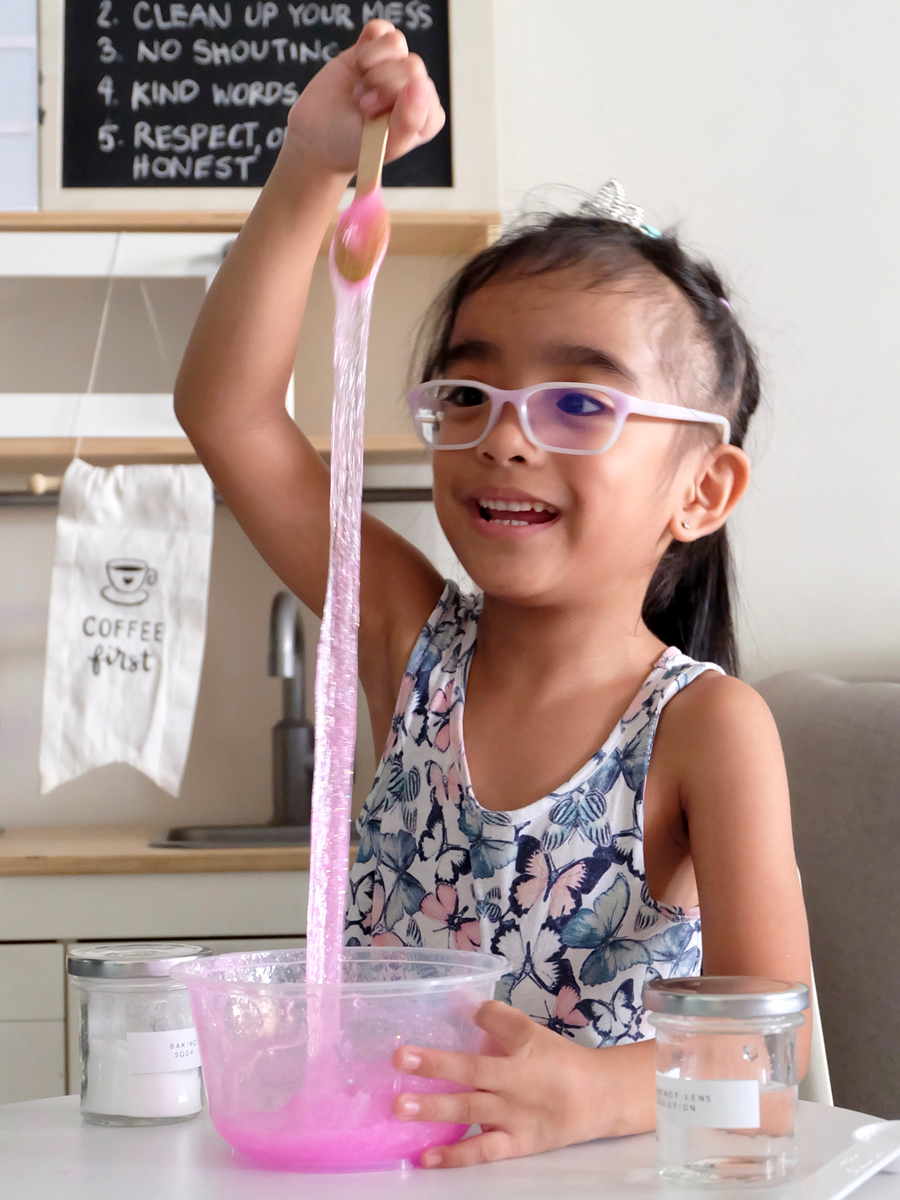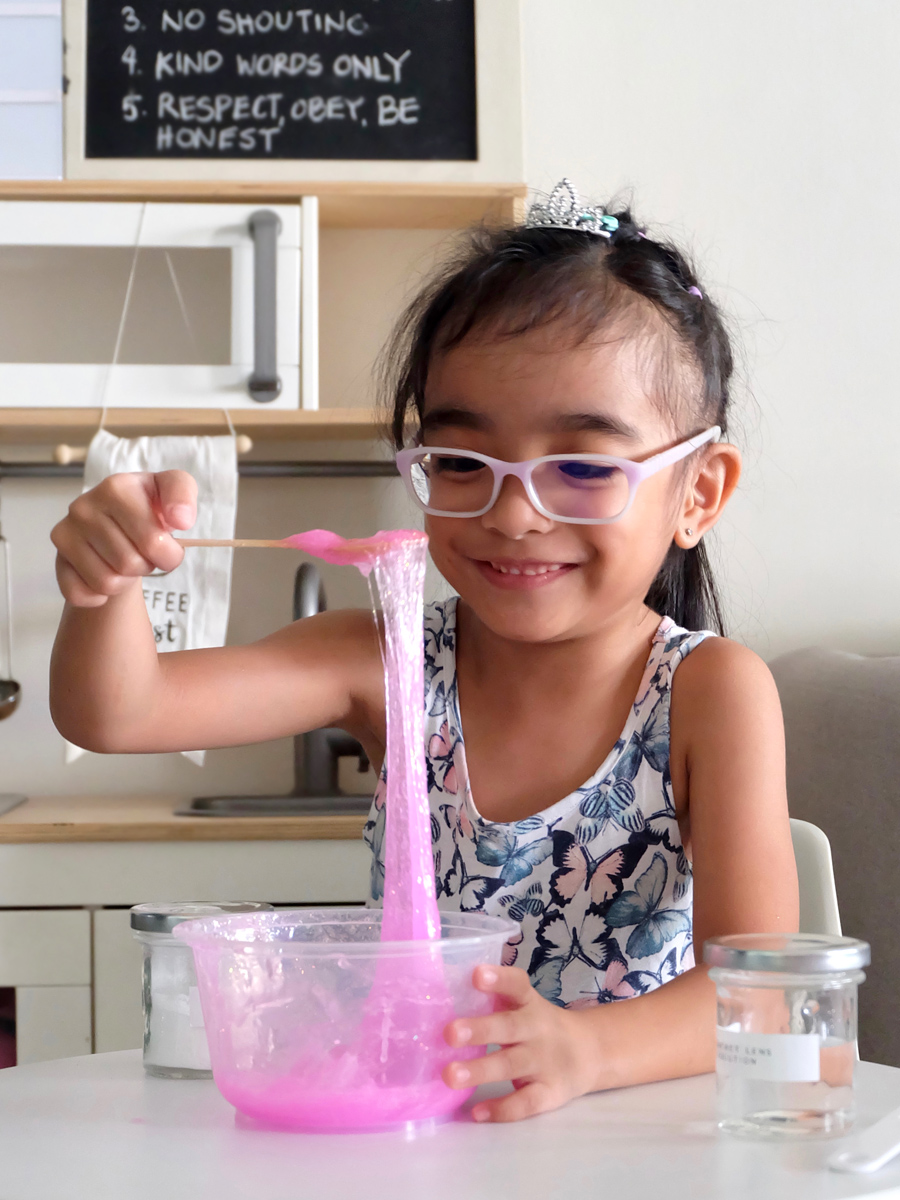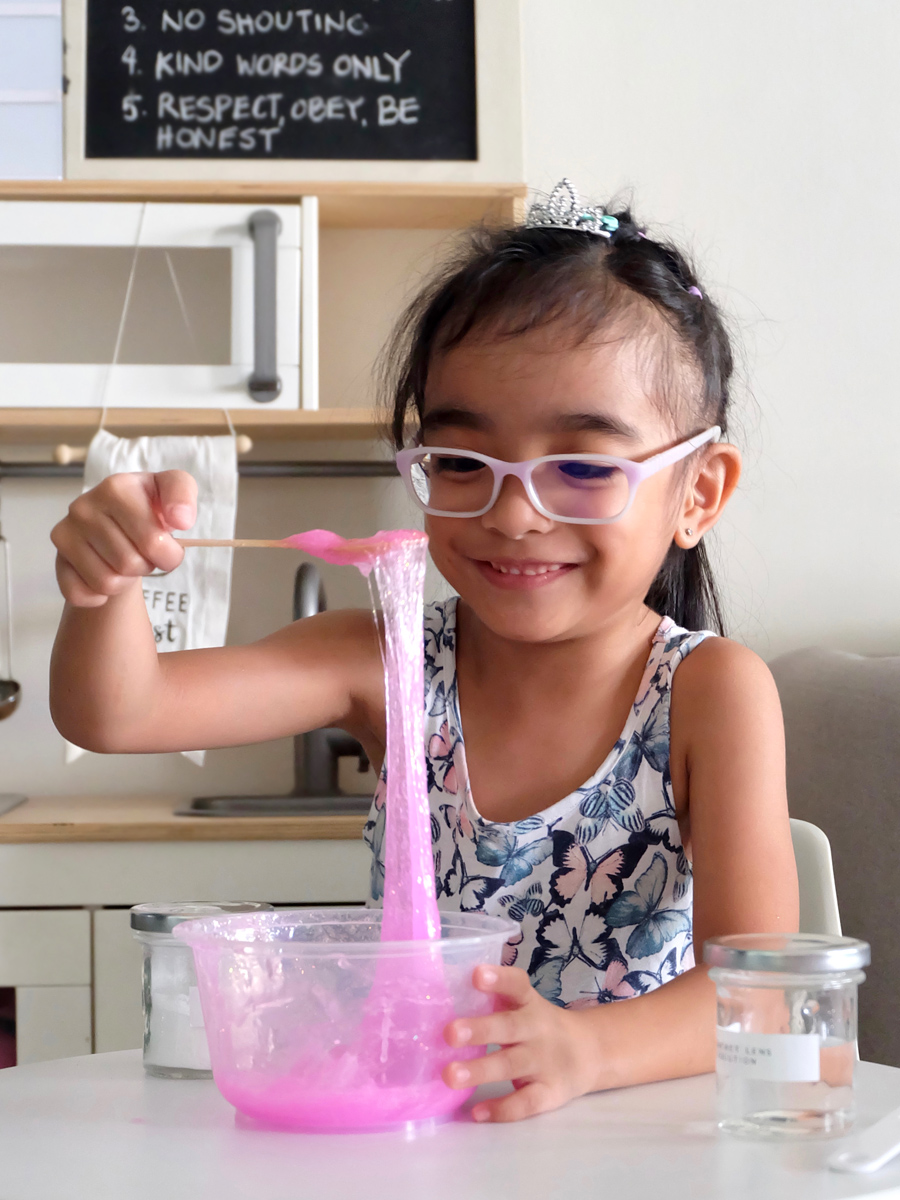 After a quick stir with a spoon, everything started coming together. A gooey and stretchy slime was finally forming. Zoë was ecstatic to see her pink goo!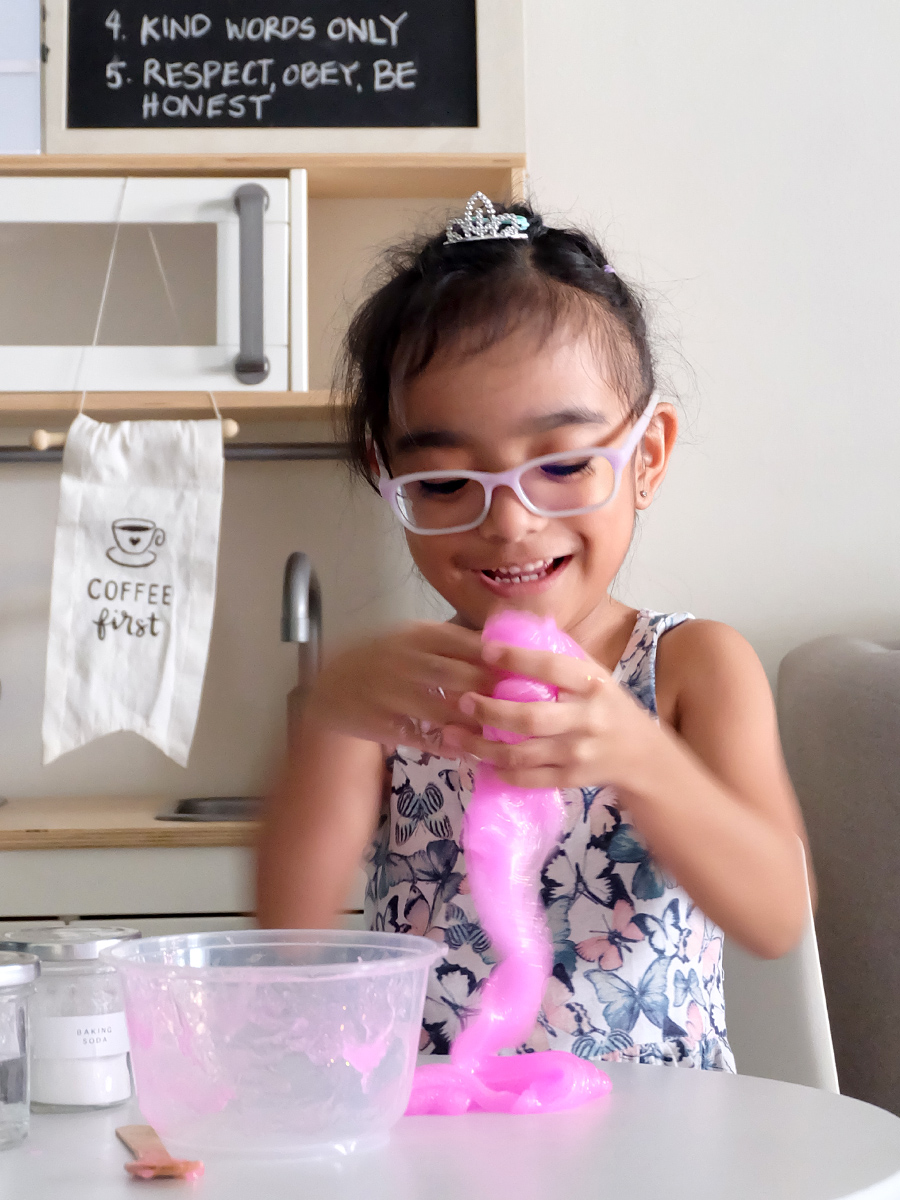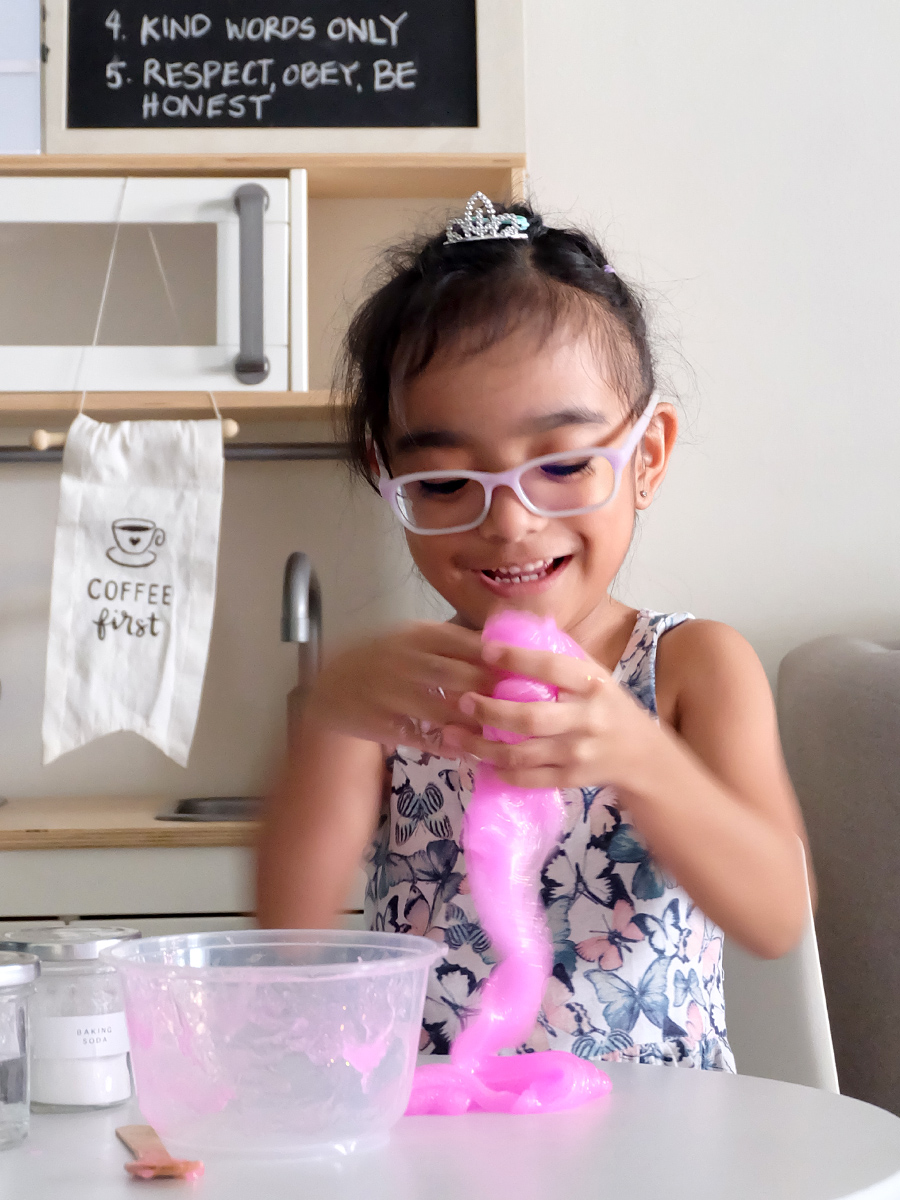 Since we wanted a firmer and less sticky consistency, we added an extra 1/4 TBSP of contact lens solution. This did the trick! At this point, Zoë scooped it out of the bowl and continued kneading the slime by hand.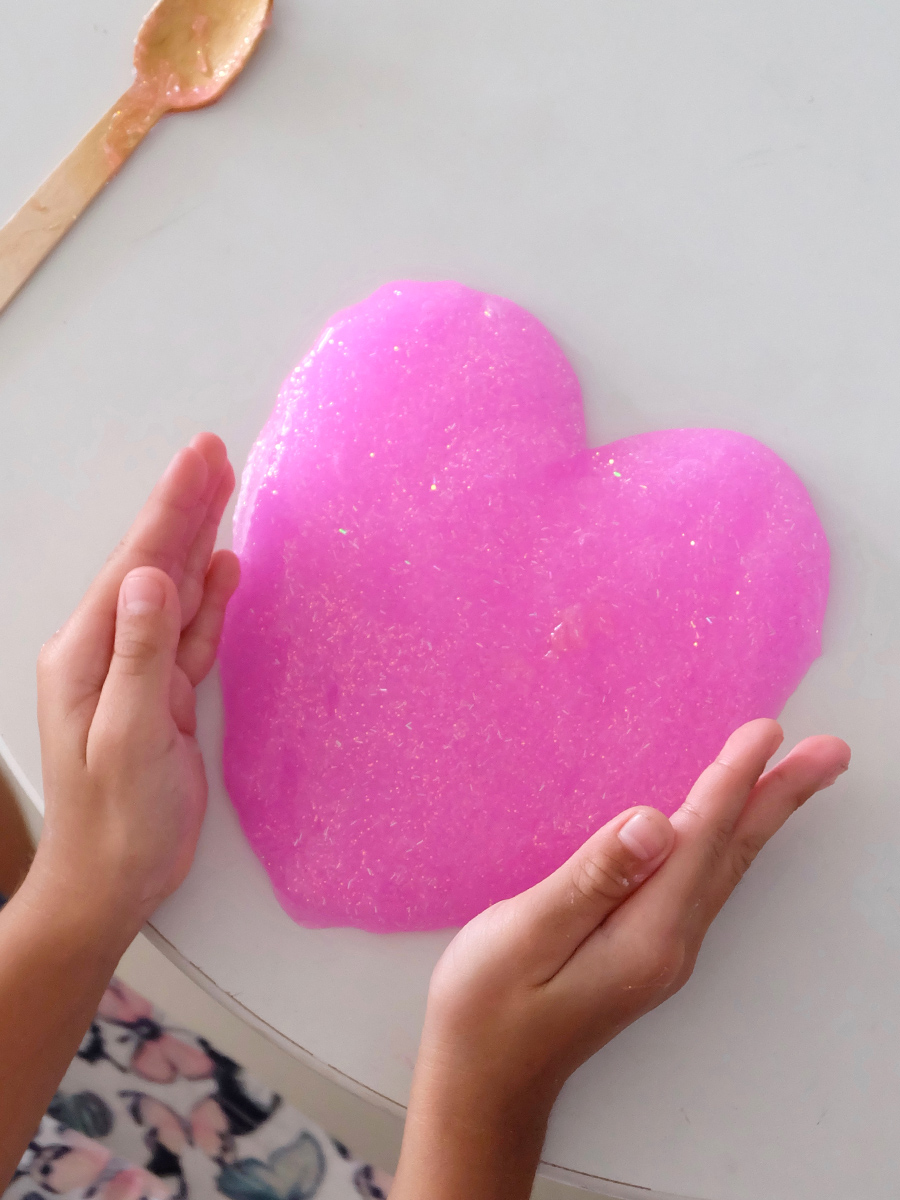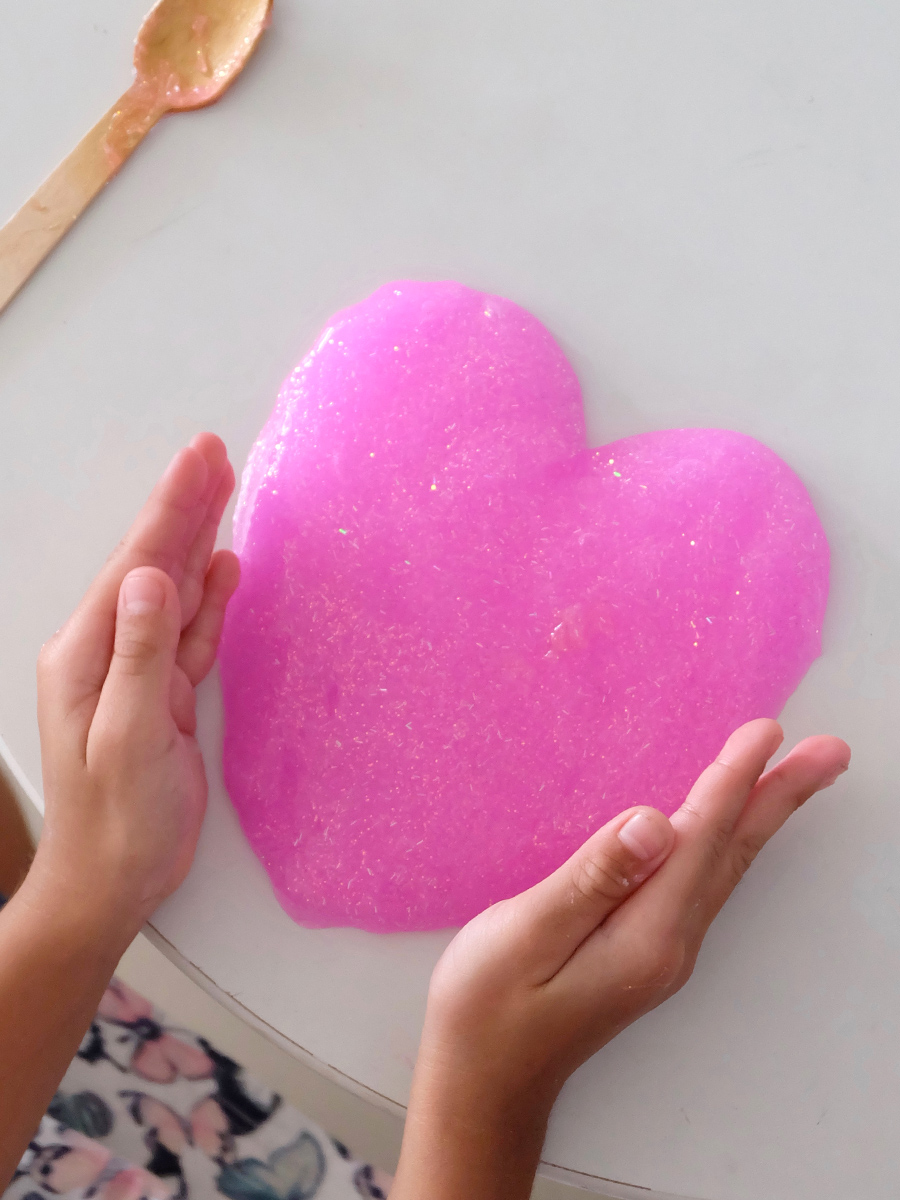 Within seconds, our Glitter Slime was ready! Check out that glittery goo!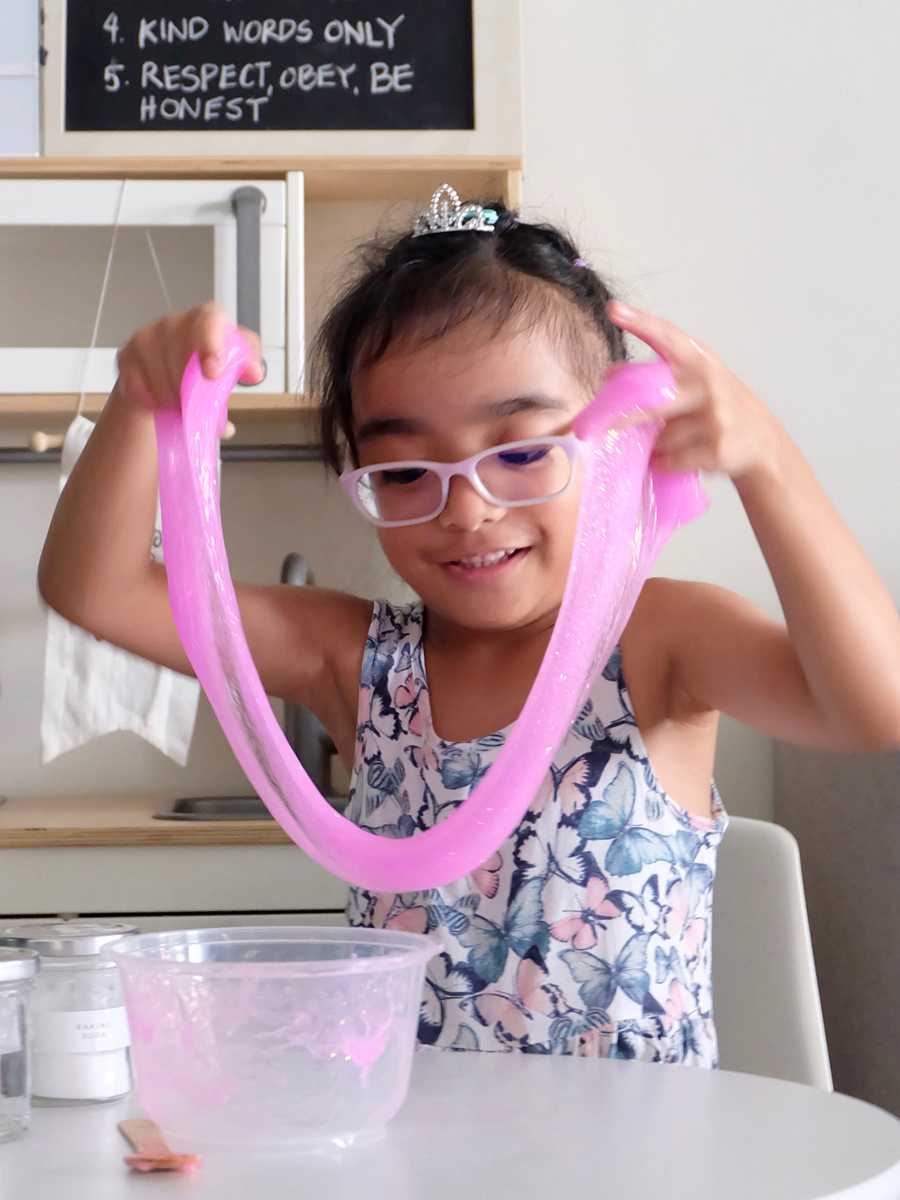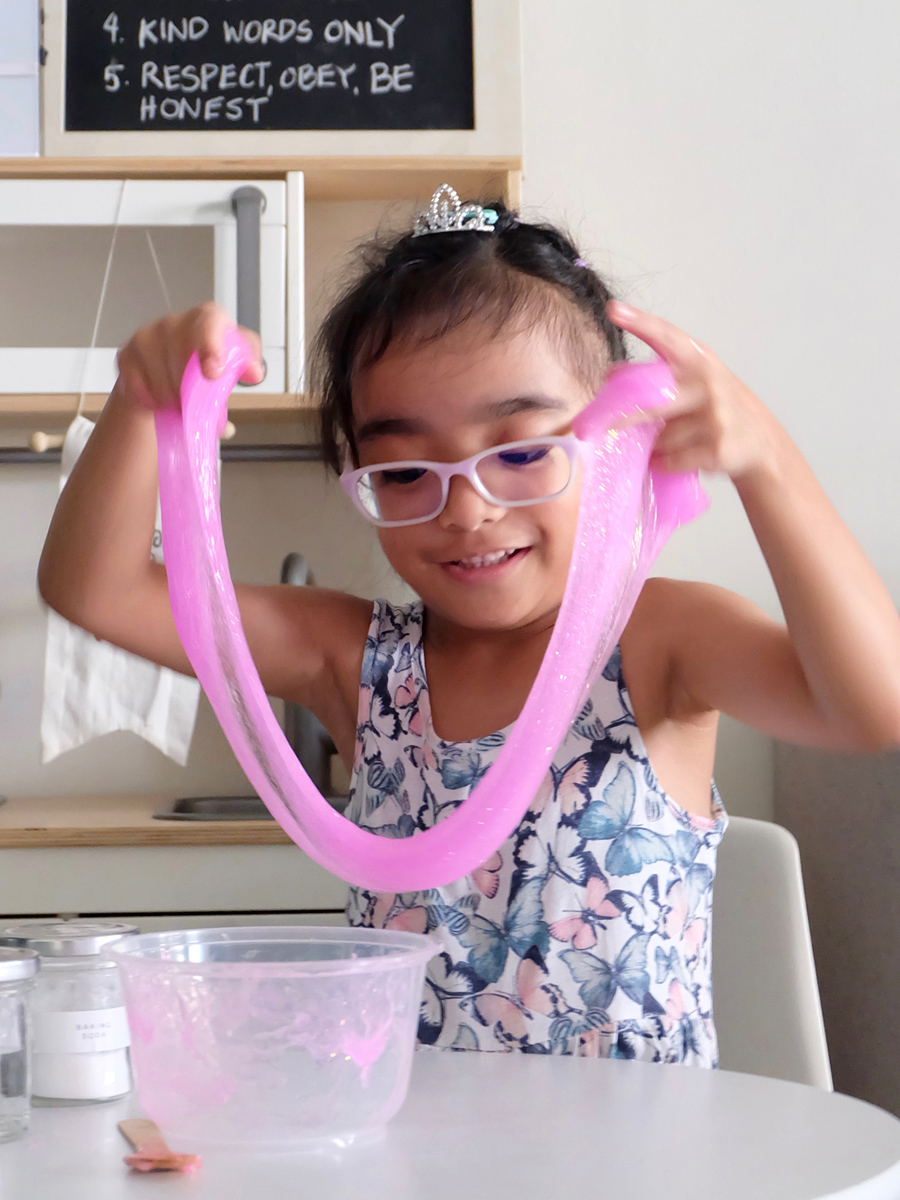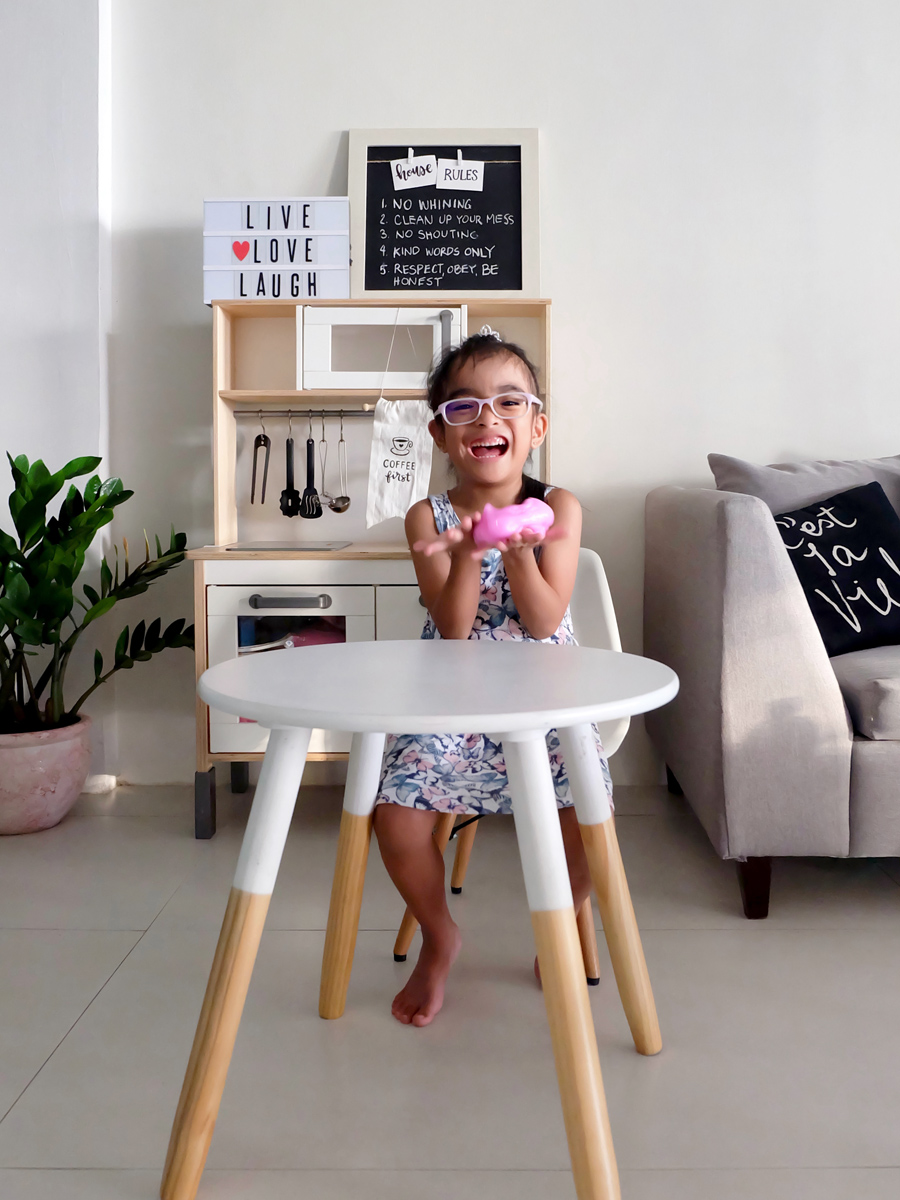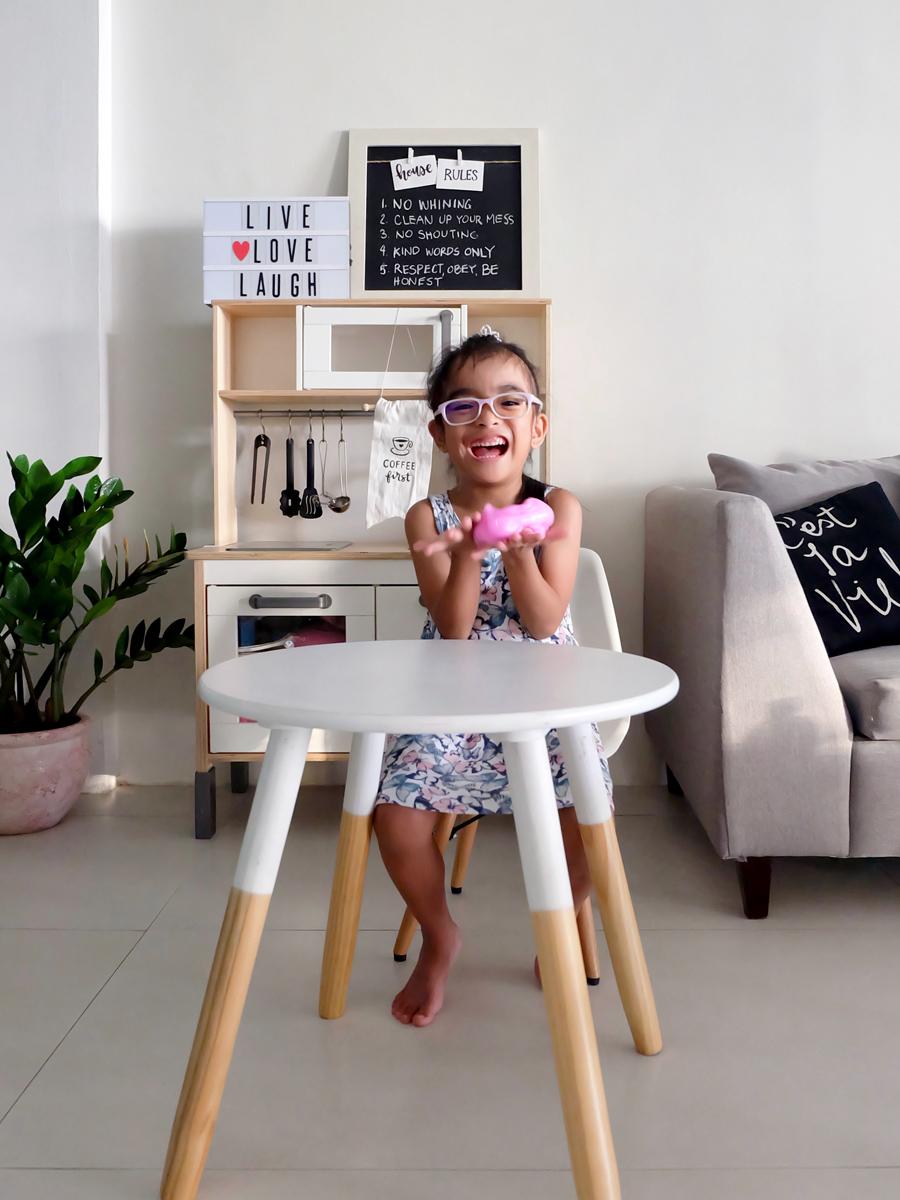 It's pretty obvious that my little 6-year-old was happy with her pink glitter slime. I guess part of its allure is getting the chance to make it all by herself. She has been playing with it nonstop: stretching, molding, squeezing and shaping it! It has given her endless fun!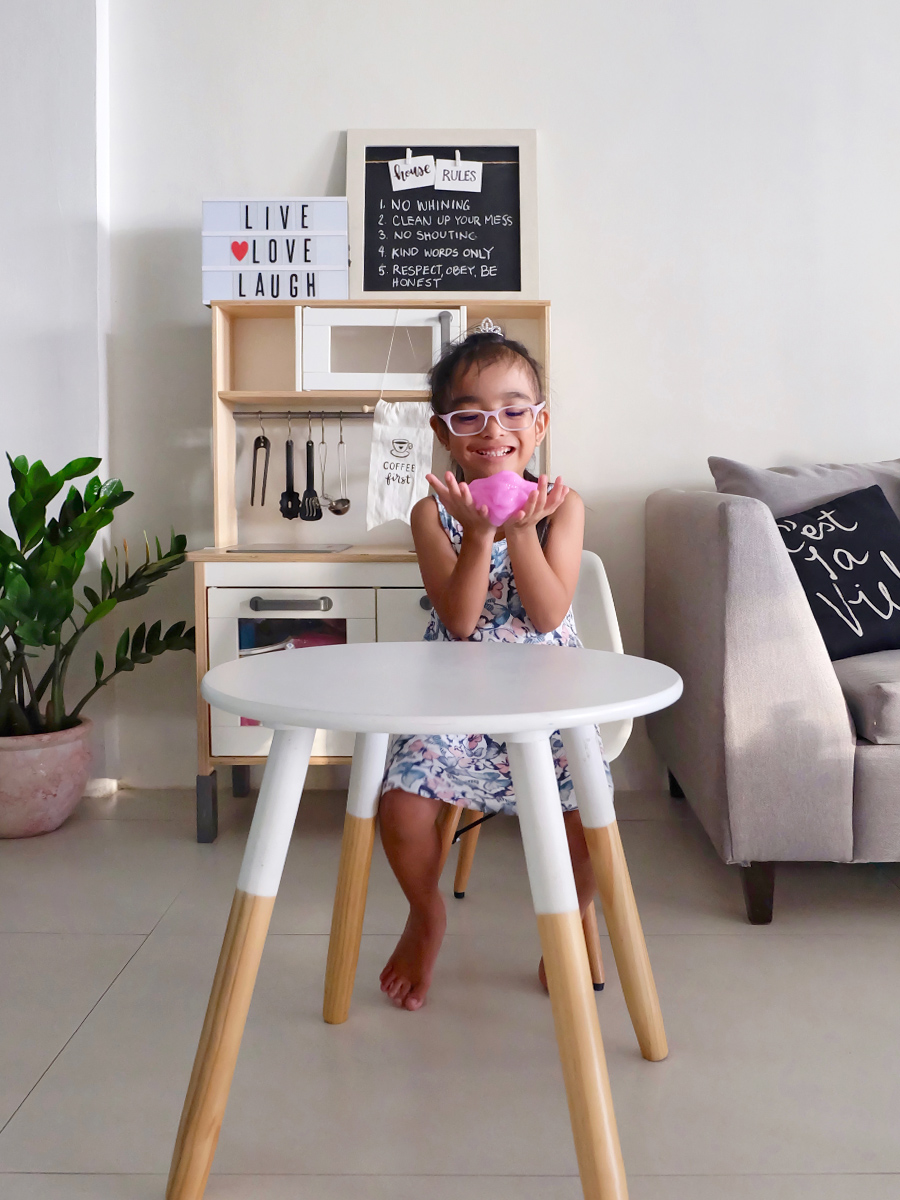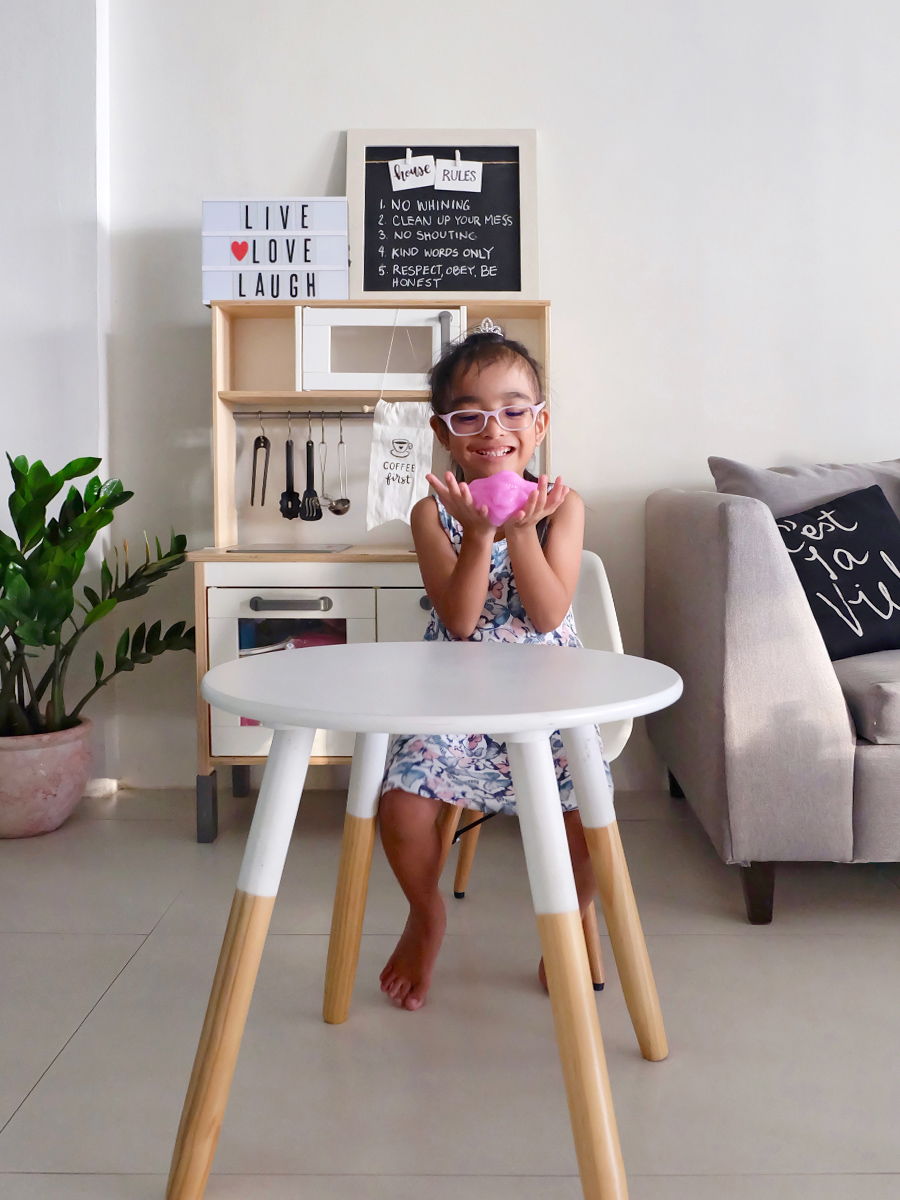 Are you on the lookout for a new slime recipe? A recipe with ingredients that are safer and more kid-friendly? A recipe that is not only mess-free, but is also fast and easy to make? Then try out this Mess-Free Glitter Slime recipe. I promise it will be fun; not just for your kids, but for your mommy sanity, too!
Here's a printable version:
---
How to Make Mess-Free Glitter Slime
Ingredients:
6 fl oz Elmer's Classic Glitter Glue
1/2 TBSP Baking Soda
1 1/4 TBSP Contact Lens Solution
Directions:
Pour 6 fl oz of Elmer's Classic Glitter Glue into a bowl.
Add 1/2 TBSP of Baking Soda and stir well until it is mixed well with the glue.
Gradually add the Contact Lens Solution to the glue mixture. Start off with 1 TBSP of solution, mixing all the ingredients together with a spoon.
If slime is still too sticky, add more Contact Lens Solution until you reach your desired consistency.
Continue kneading the slime by hand.
Enjoy!