Here's a a little confession: I love I'm obsessed with clear stamps! I favor them over rubber stamps, because being transparent, they allow you to see precisely where you're stamping. No more guessing whether your images are positioned accurately, making the whole stamping process faster. They are also easy to clean, and take up very little storage space. Plus, they come in lots of different cute designs and sets!
When the girls of Life Documented Manila launched their Kain Na Stamp Set, I was in love. I knew I had found my favorite food stamps. Designed by  Christine Herrin and Kitty Jardenil, the Kain Na Stamp Set is one that every Pinoy foodie can definitely relate to!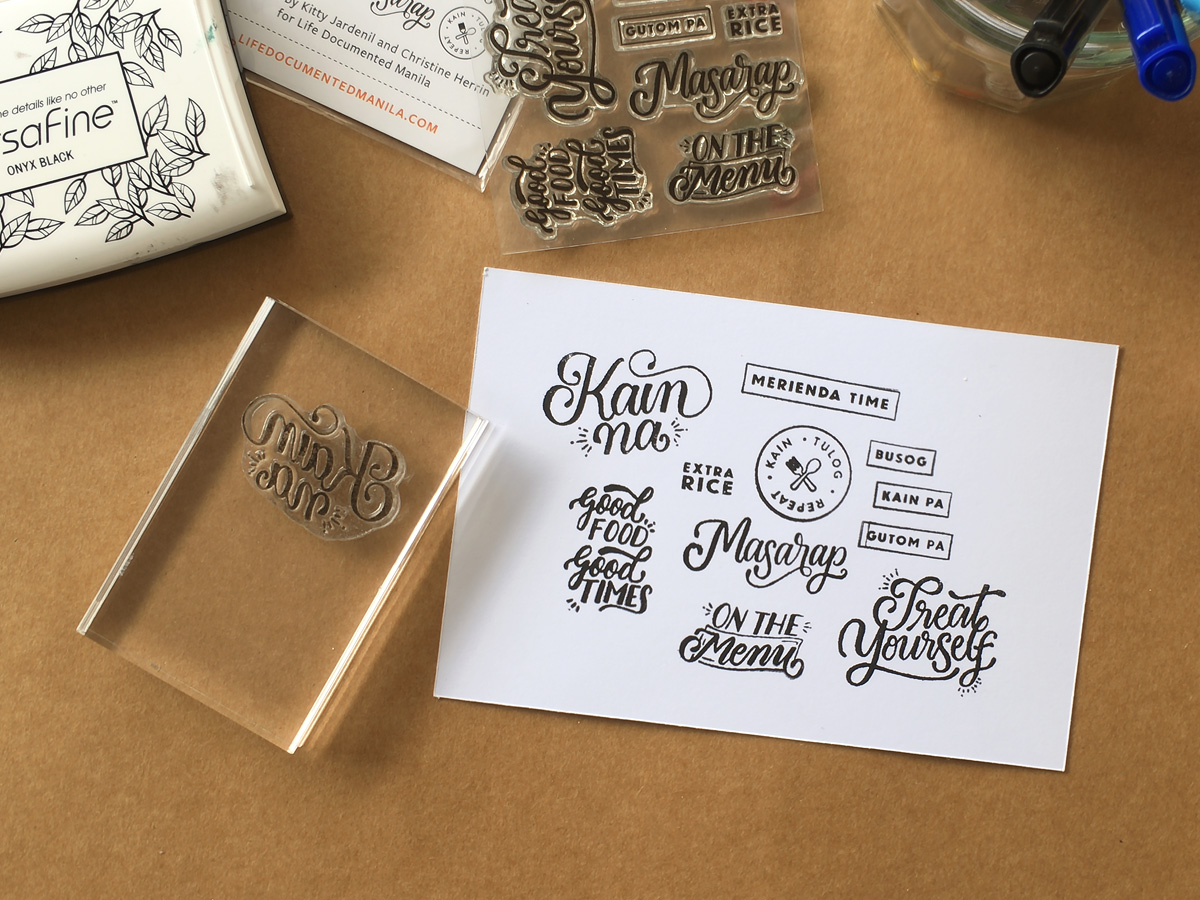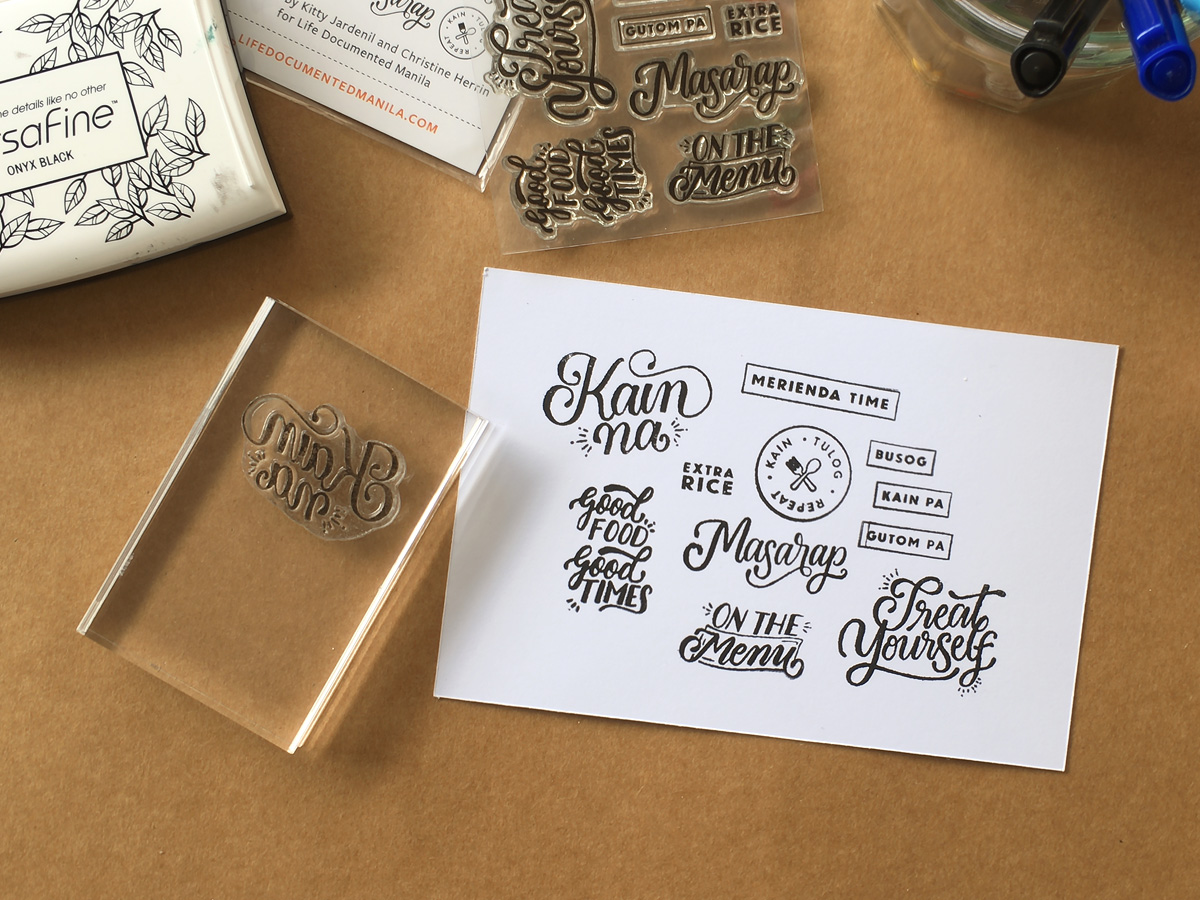 With Pinoy phrases like Kain Na, Masarap, Merienda Time, Extra Rice, and my favorite Kain Tulog Repeat, there are many different ways to use them. Here are some examples of how I've played with them:
Pocket Scrapbooking
I documented my Christmas 2015 in a 4×6 mini album early this year, and the Kain Na Stamp Set was perfect to highlight the overflowing food that happened during the holidays.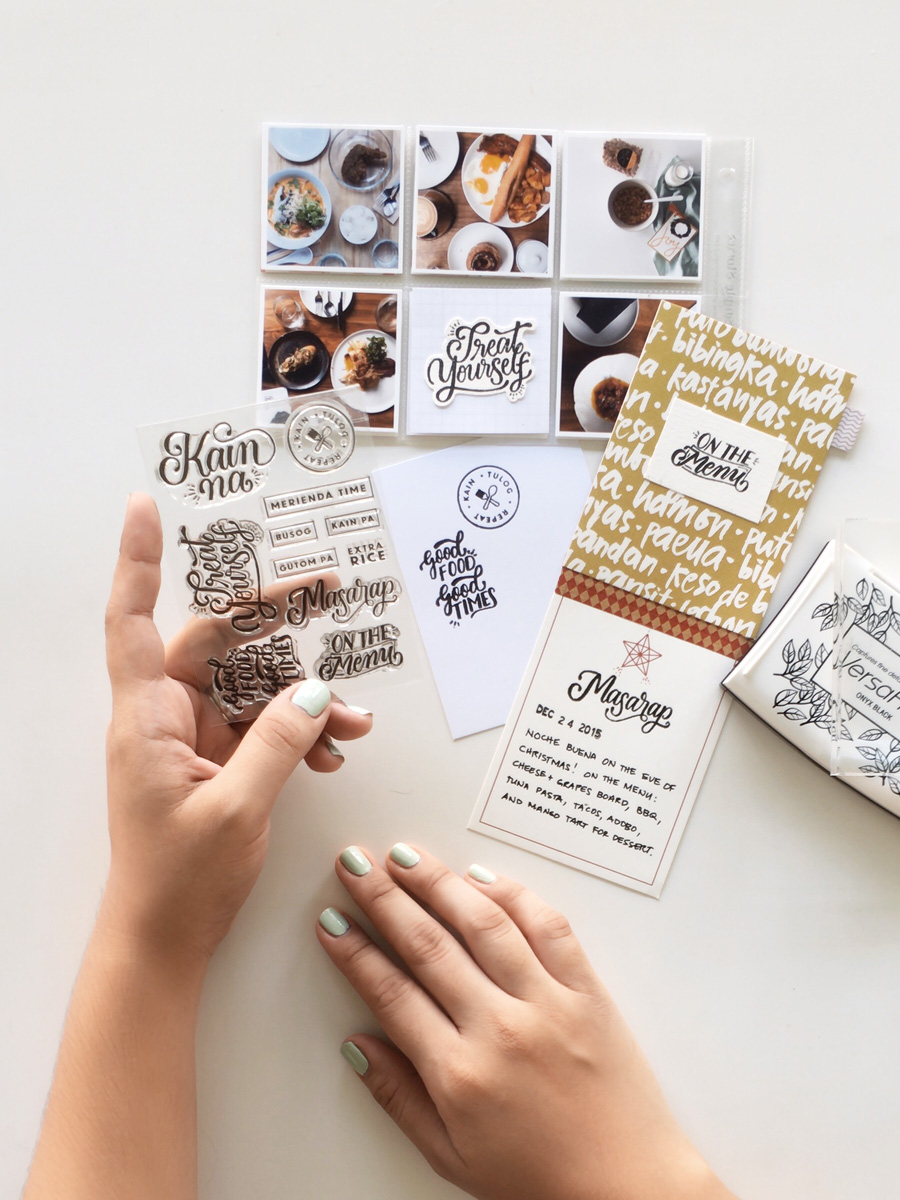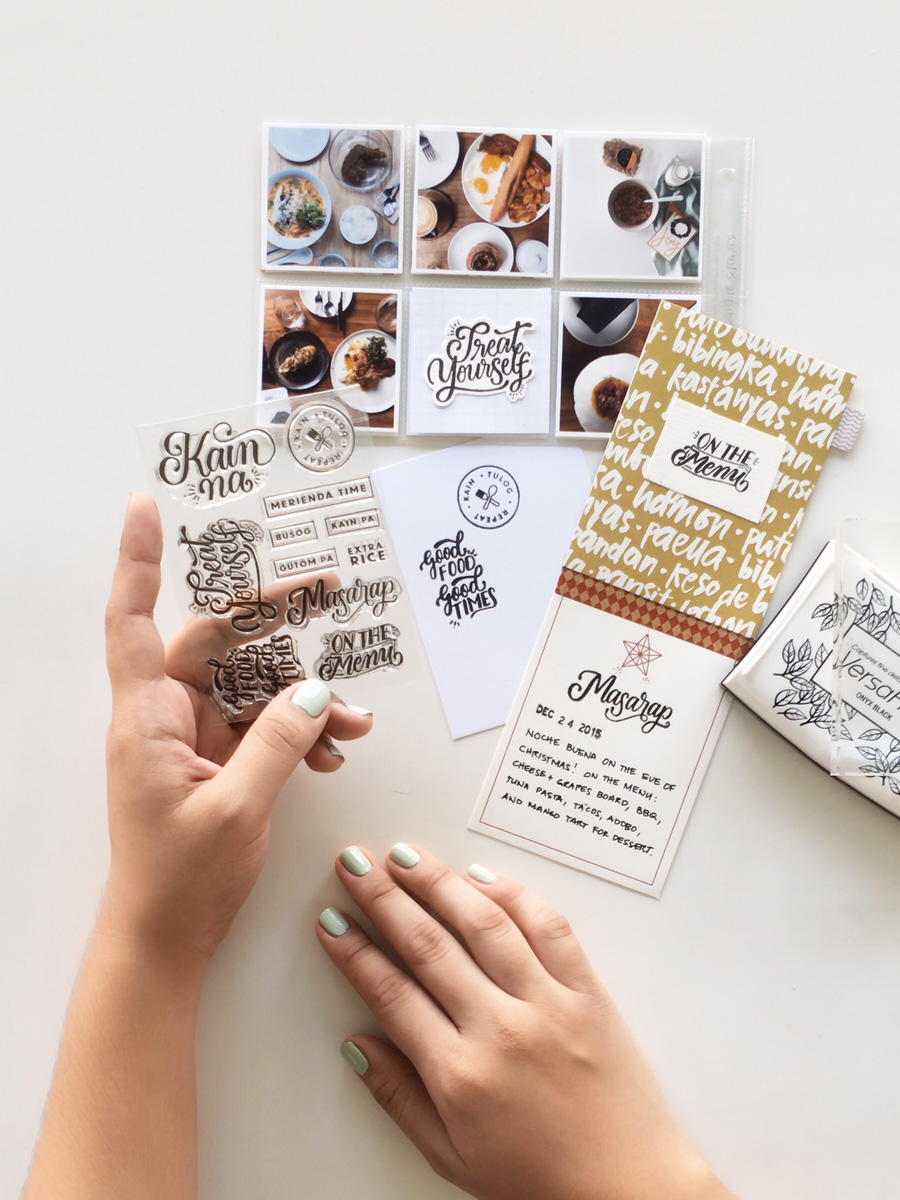 Using both the On The Menu and the Masarap stamps, I added them to my Paskong Pinoy cards and made a little flip-up card to jot down the simple spread that we feasted on for Noche Buena.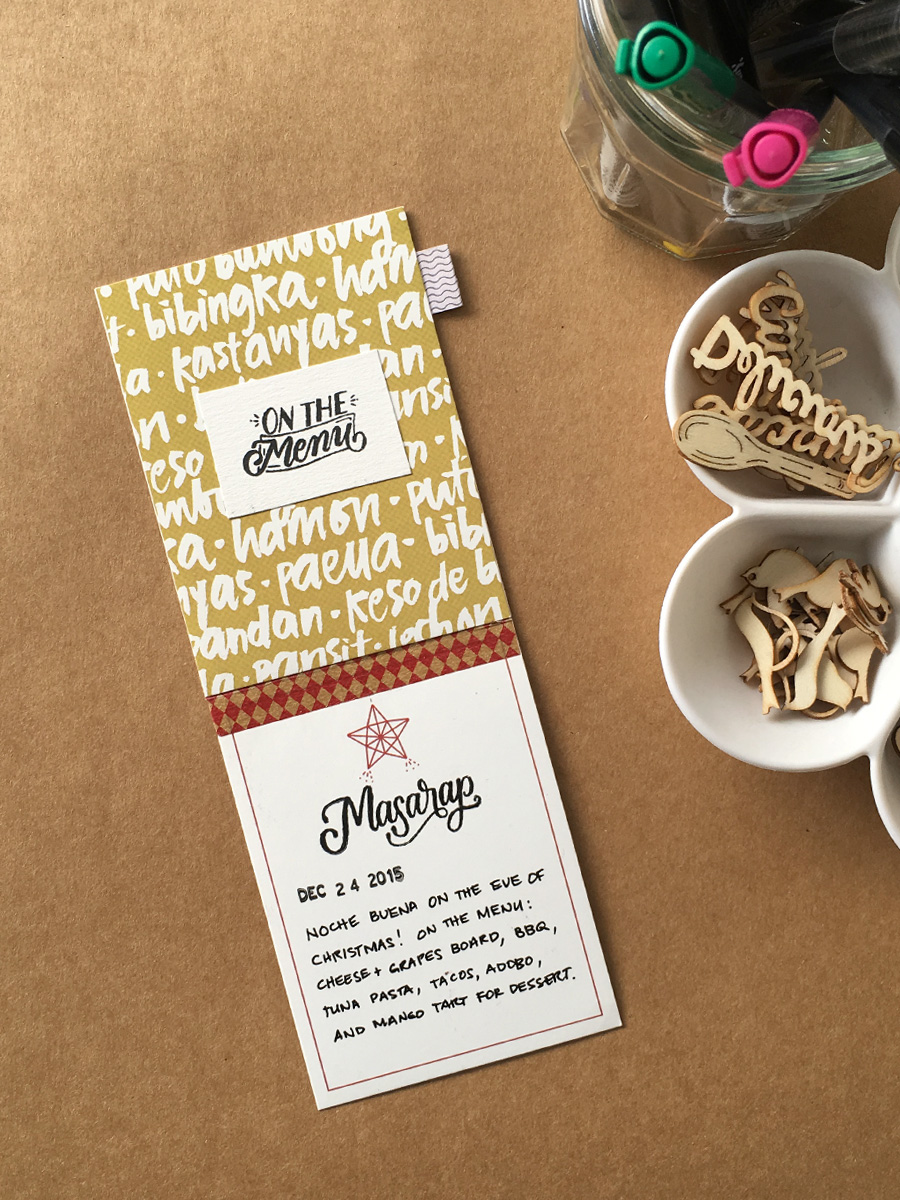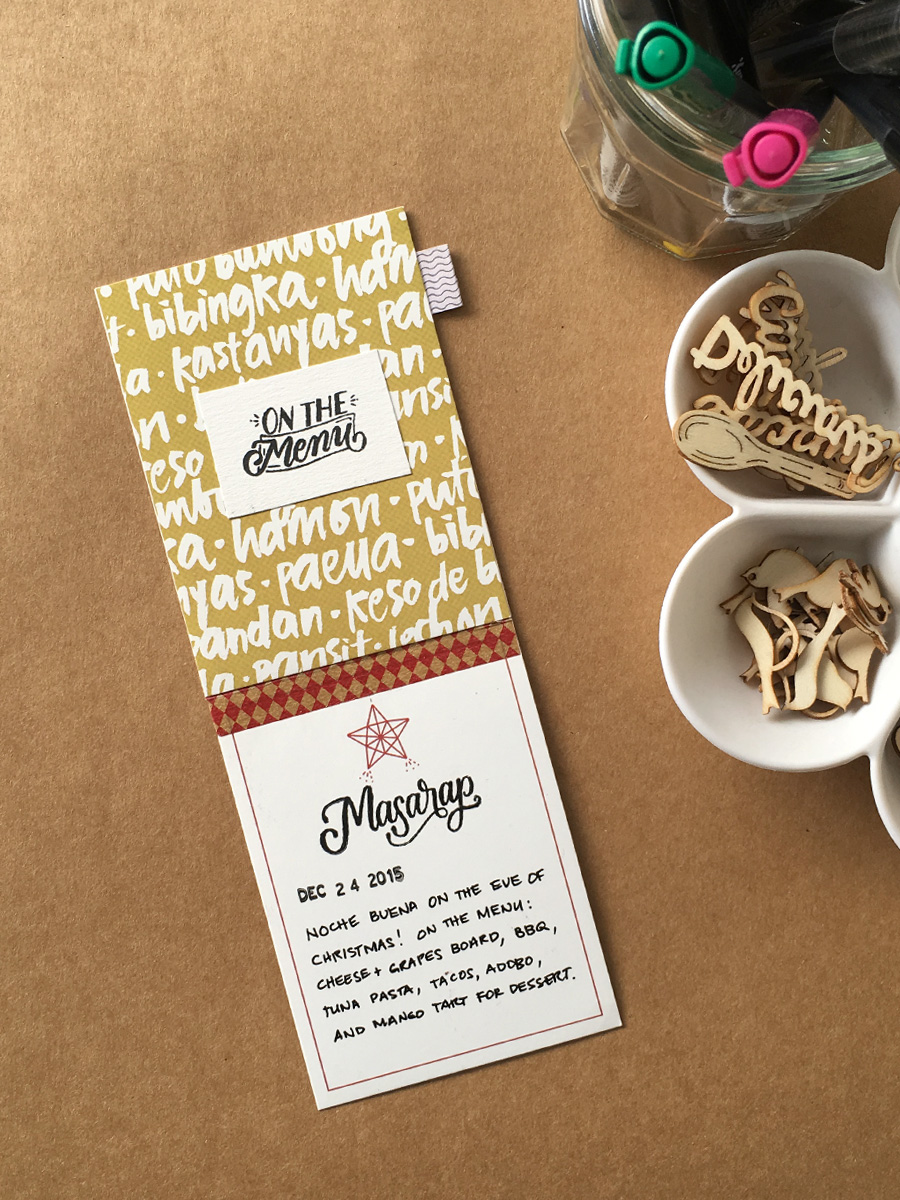 The Treat Yourself stamp was a great addition to this spread full of my food photos. I stamped it on white paper, trimmed around it and glued it on a grid card to make a unique 2×2 filler card.
Making Filler Cards
When I don't find cards to match my current pocket scrapbooking spread, I always resort to making my own. The first thing I usually reach out for? Clear stamps. They are quick and inexpensive tools to designing unique cards.
For the card on the left, I used the Merienda Time, Gutom Pa, and Kain Pa stamps to make a simple text pattern on white cardstock. For the card on the right, I stamped the Kain Tulog Repeat stamp on plain white paper, trimmed around the circle, then simply glued the new embellishment on another Paskong Pinoy filler card.  These were so fast and easy to do, each card only taking about five minutes to make.
Making Lists 
I'm an avid list maker. I write several lists on the daily, from grocery lists and to-do lists, to random ones just for the sake of making lists. The other week, I jotted down my current favorite restaurants in the metro. The Masarap stamp made for a perfect heading.
Planner/Journal
My planner is mostly a mini-journal where I write quick notes and doodles of what I did that day, and less of a to-do-list kind of planner. It just helps my mommy brain remember the little details, perfect for when I need to document them in my scrapbook.
I used the Kain Na Stamp Set to fill up an entire page in my weekly planner last January. I love how each stamp added character and brought life to the page. Stamping also made the whole process of documenting my week more fun.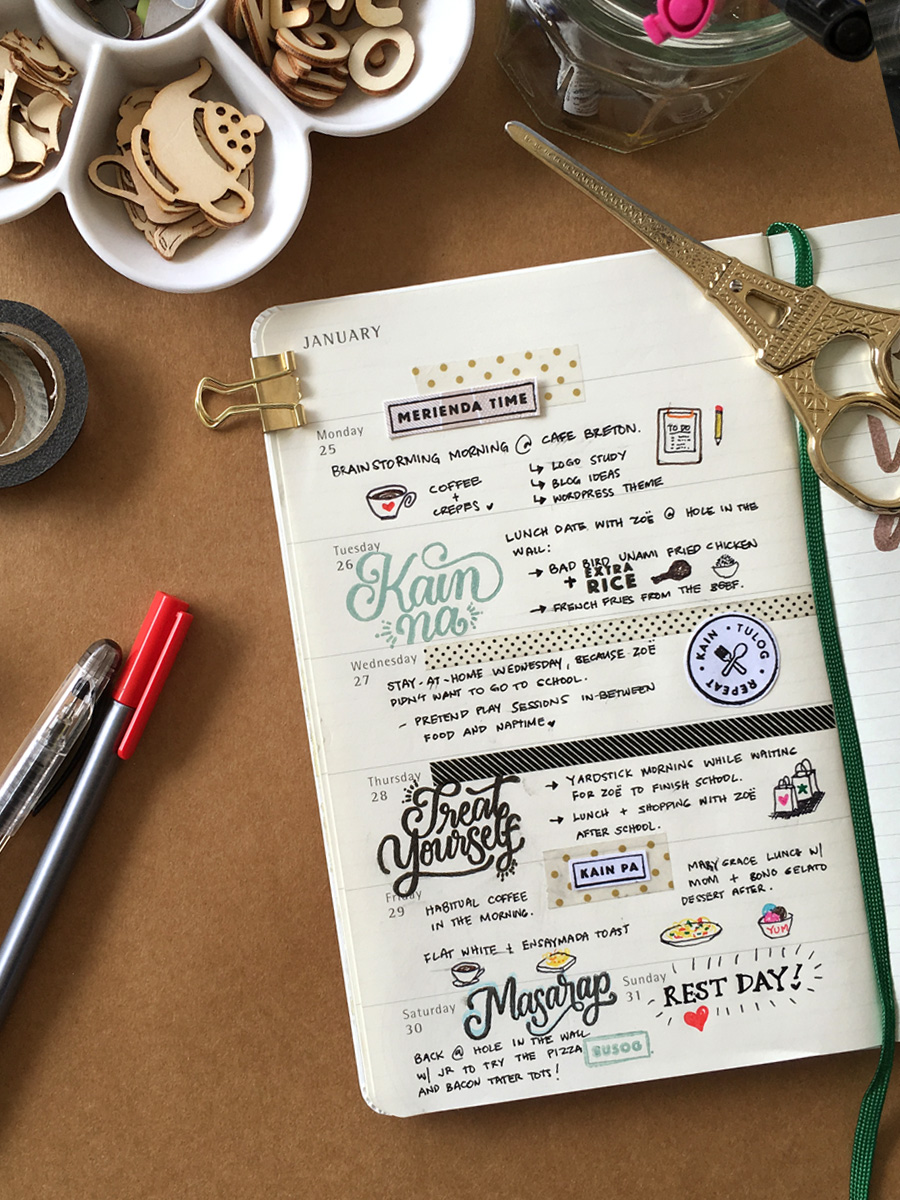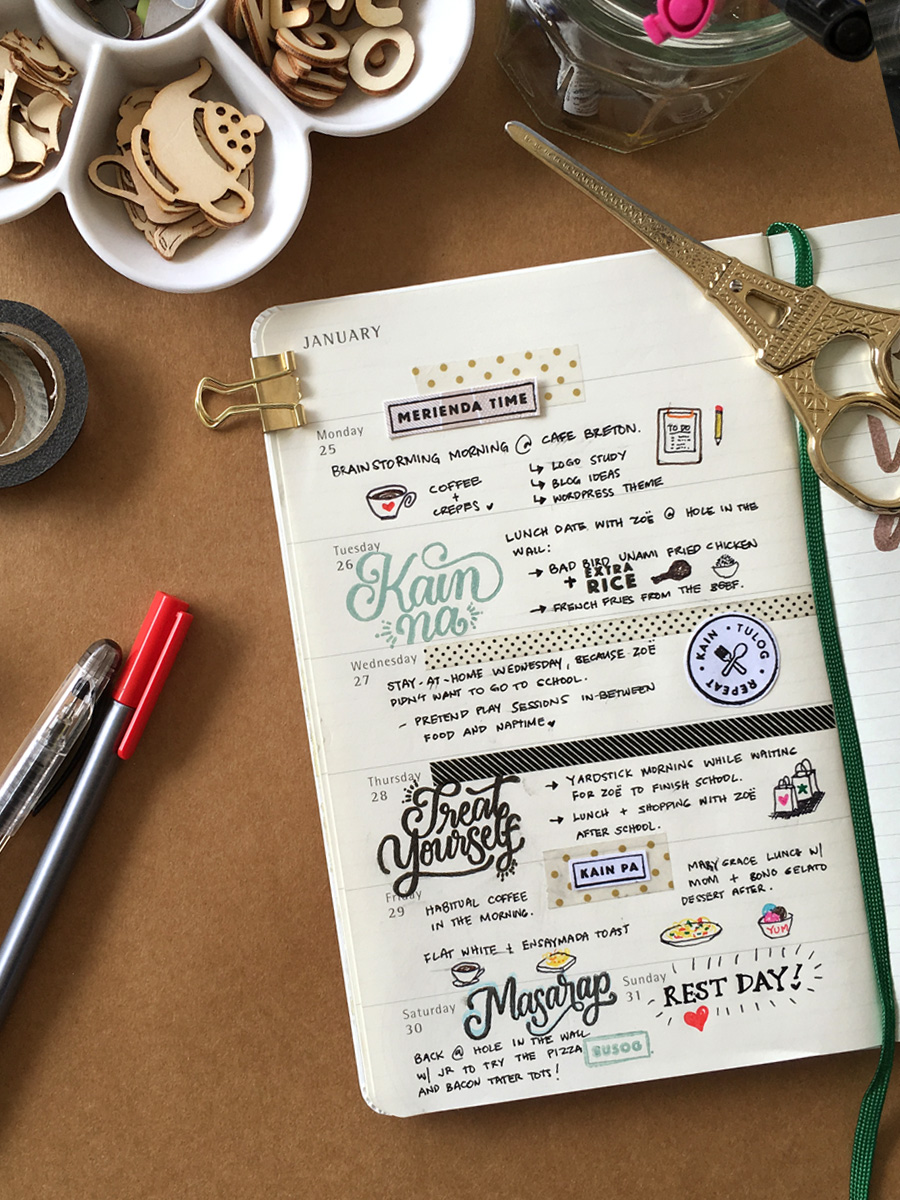 I love how versatile the Kain Na Stamp Set is. There are so many possibilities and ways to use it, it has already become a staple in my scrapbooking and planner arsenal.
Start stamping away and get your own Kain Na Stamp Set over at Life Documented Manila.