Mothers need a break from motherhood once in a while. We shouldn't feel guilty about asking for a bit of time off. No, it's not being selfish. We need a break, not to get away from the kids, or to escape our responsibilities and the long list of household chores that need tackling, but we must in order to recharge. Sometimes all we need is an hour or two away to unwind and let loose, in order for us to come back a more happy and loving mother.
Two weeks ago, I finally got the mommy break that I needed over a #HappyLunch at CDP Global Table. Together with some Mothers Who Brunch friends, we shared stories of our motherhood highs and lows, while trying dish after dish of mouth-watering goodness.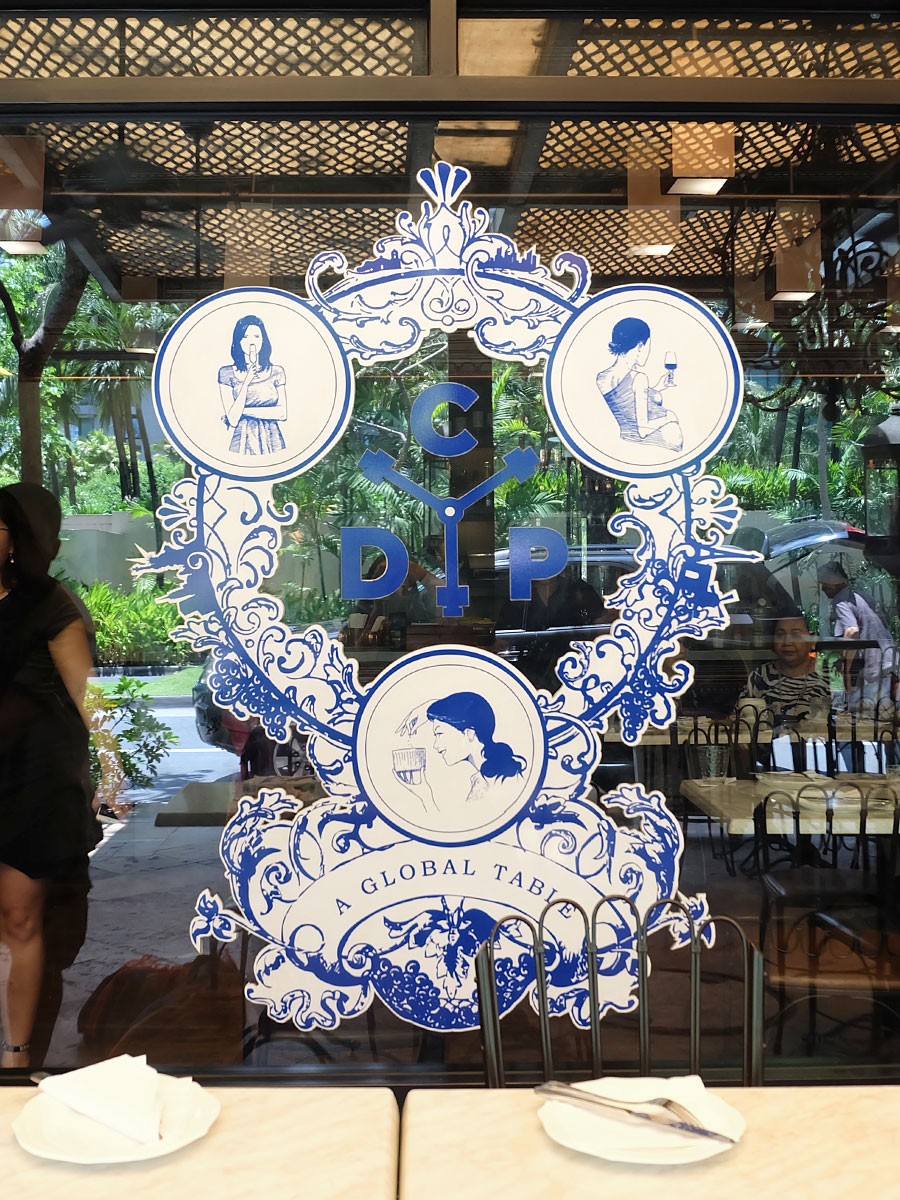 CDP Global Table (Chef Du Partie), founded by Malou Fores of Mamou and Recovery Food, Katrina Alcantara of Mesclun and Chuck's Deli, and Kristine Locsin formerly of Lu in 2014, is a quaint bar and restaurant offering a taste of world flavors. A global table, serving dishes influenced by the travels of the three restaurant heads and their love for Paris, New York and Manila.
During our lunch, we were treated to some of the restaurant's bestsellers, as well as the fresh additions to their menu. Check out some of the dishes that we tried:
These Squash Flowers, fried in a light batter and served with blue cheese sauce, was surprisingly good. Crispy, with a lingering sweet floral flavor, it was the perfect start to our meal!
Made with CDP's homemade chorizo, this Chorizo Quesadilla was cheesy and savory. Something I would definitely go back for.
A variation of the classic French salad, CDP's Nicoise Cups is a star on its own. Seared tuna, on a bed of romaine lettuce, purple cabbage, olives, hard boiled egg, and served with anchovy vinaigrette, each bite is packed with so much flavor, without being too heavy.
Arugula, lola rosa, dried cranberries, fuet, almonds, Malagos chèvre, cherry tomatoes and pine nuts, tossed and drizzled with red wine vinaigrette, manuka honey and extra virgin olive oil.
Local mussels, served three different ways. My favorite among the three? Mussels in Tarragon Cream! There was just something about the creamy soup, plus the aroma and flavor of the tarragon that made me want to slurp the soup dry!
This Prawn Pappardelle was a favorite among the mommies!
Vongole, done right! Spaghettini, fennel bulb, Manila clams, and lobster tail, flown in all the way from Maine!
I'm a fan of Aglio Olio, and this Duck Olio takes the simple flavors of garlic and olive oil a notch higher, with the addition of duck oil and duck confit floss. So good! I think my six-year-old would enjoy this, too!
400 grams USDA Prime Ribeye, cooked medium rare. Tender, juicy, and full of flavor. Need I say more?
Another meat favorite, CDP's Barbecue Ribs are served with corn on cob, coleslaw and mashed potato.
Something to please the kids, CDP makes their Chicken Cordon Bleu really well. Crunchy on the outside, tender meat, and oozing with lots of cheese inside. Yes, please!
Tender pork belly, with the skin still crispy, just the way porchetta should be! Bursting with flavor, this went really well with the mashed potatoes.
We enjoyed all the delectable dishes with our glasses of Aperol Spritz. A concoction of Proseco, Aperol Vanilla liquor and soda water, this light and refreshing aperitif was the perfect cocktail for the hot summer day. With just the right combination of bitter, sweet and bubbly, it makes it hard to resist the temptation of ordering another glass! No worries and no judgement; CDP currently has a Happy Lunch promo of 2 for 1 on house wines, spritzes, beers and CDP cocktails!
I had to rush off for school pickup right after we were done with our mains. I missed out on the dessert and more mommy fun, but I wasn't too bummed out; two hours spent enjoying the company of like-minded women over drinks and yummy food, was enough for me to feel recharged and ready for all the motherhood duties waiting for me. While driving back to my daughter, I already felt happier and more relaxed. I must remind myself to take these mini breaks more often.
What about you? When was the last time you took a break? Go on, take that break. Don't feel guilty. Take an hour or two off and maybe have a glass or two at CDP Global Table in Rockwell, while you're at it. I know I'll be back, soon!
CDP Global Table
148B Level R1 Power Plant Mall, Lopez Drive, Rockwell Center
Facebook: https://www.facebook.com/CDPGlobalTable
Instagram: @cdpglobaltable
Mothers Who Brunch
Facebook: https://www.facebook.com/MothersWhoBrunch
Instagram: @motherswhobrunch