Halloween's over, but we're still gaga over Zoë's costume this year. When you have a daughter who's determined to wear something unique every year (she was an ice cream cone last year, a gumball machine the previous year, and a cupcake the year prior), you can bet she will request for another DIY creation.
This year, she wanted to be a claw machine. The truth? It was another project this DIY-loving momma took on with excitement.
Check out Zoë's claw-some costume!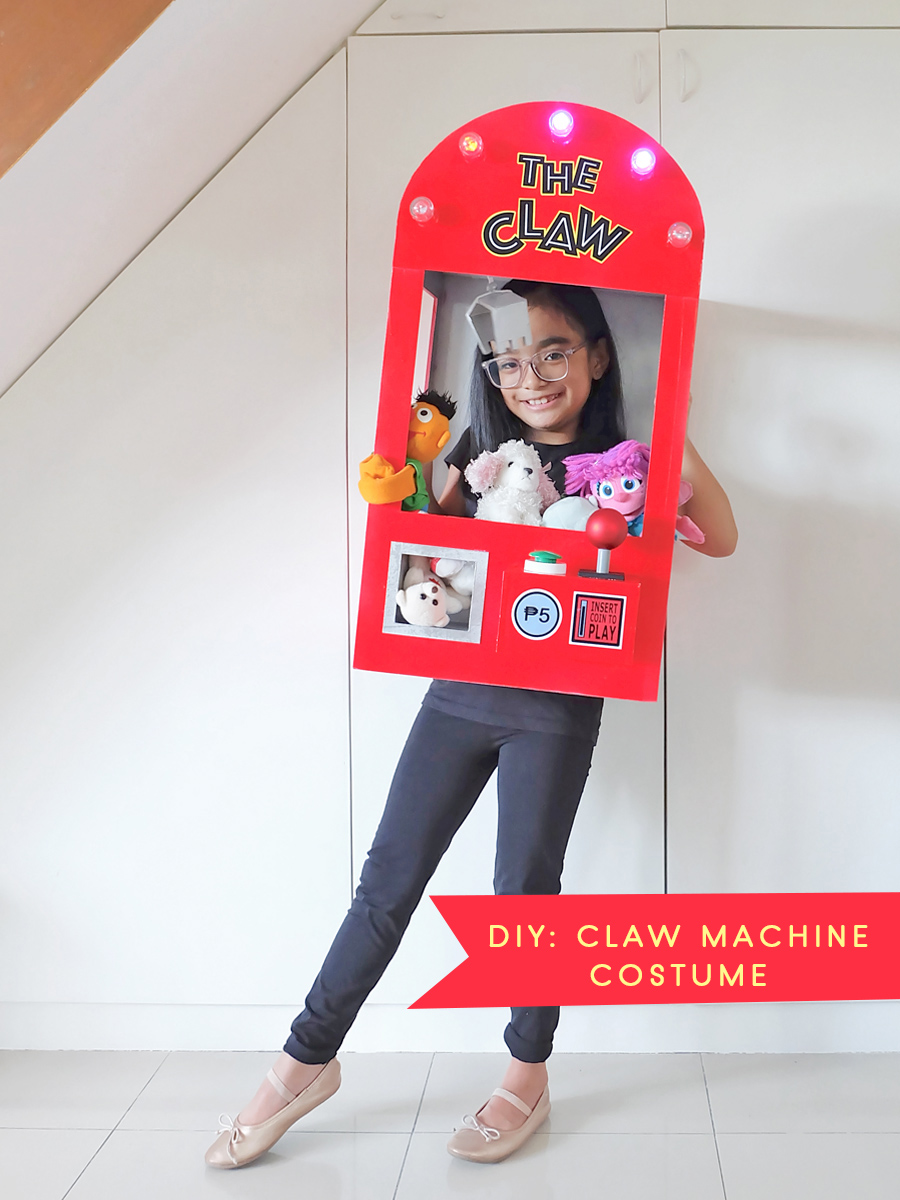 When we were conceptualizing and thinking of how to build the claw machine costume, our first concern was the size and weight of the final product. We didn't want to make something too bulky or too heavy for Zoë to carry. Instead of using a regular-sized box, we used foam board and built the main box frame from scratch, making sure the size was just right for Zoe's upper body. We made it small enough for her to be able to sit down comfortably on the floor.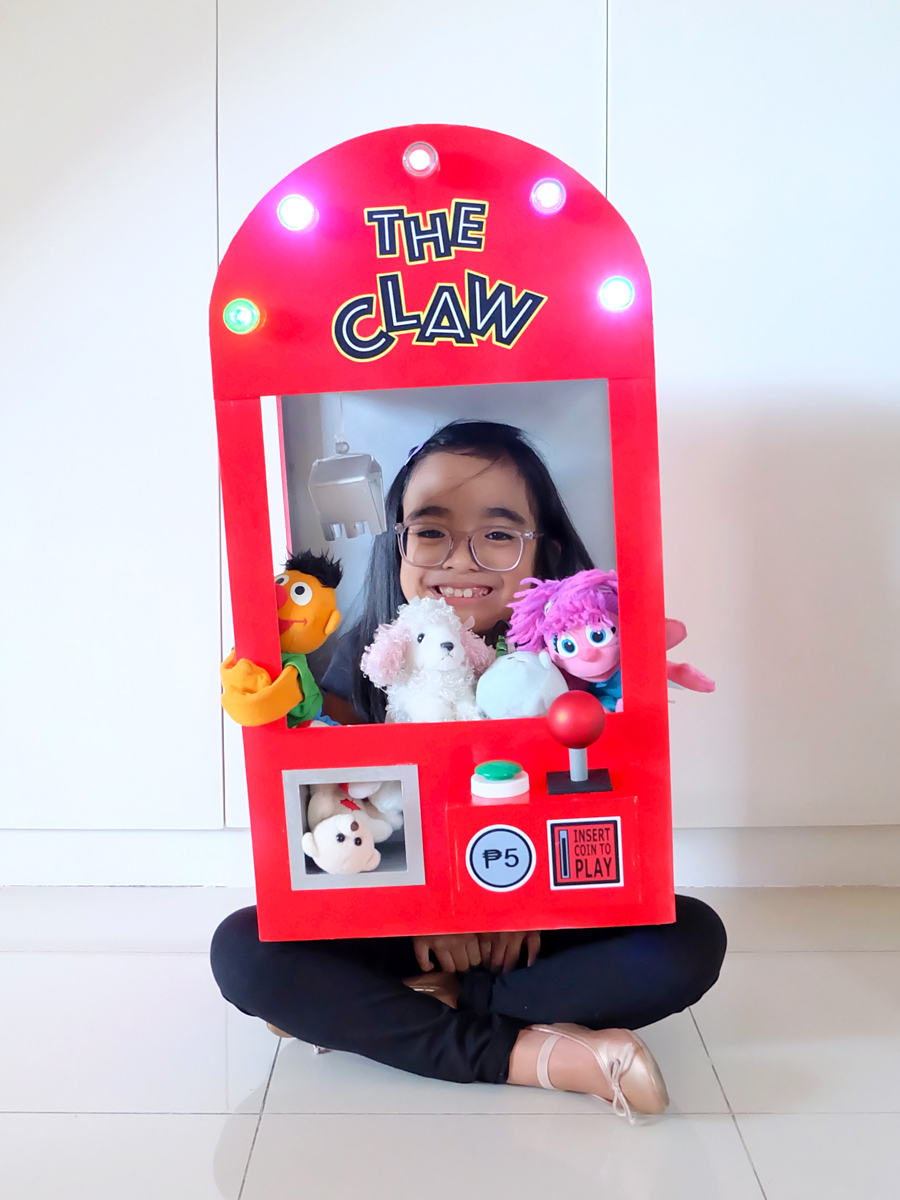 Using foam board made it easier to cut out windows on three sides, as well as the prize compartment. We made sure to measure and cut out all the details before putting all sides together with some super glue and masking tape. With a generous coat of spray paint (red for the exterior, and silver for the interior), the main structure was done.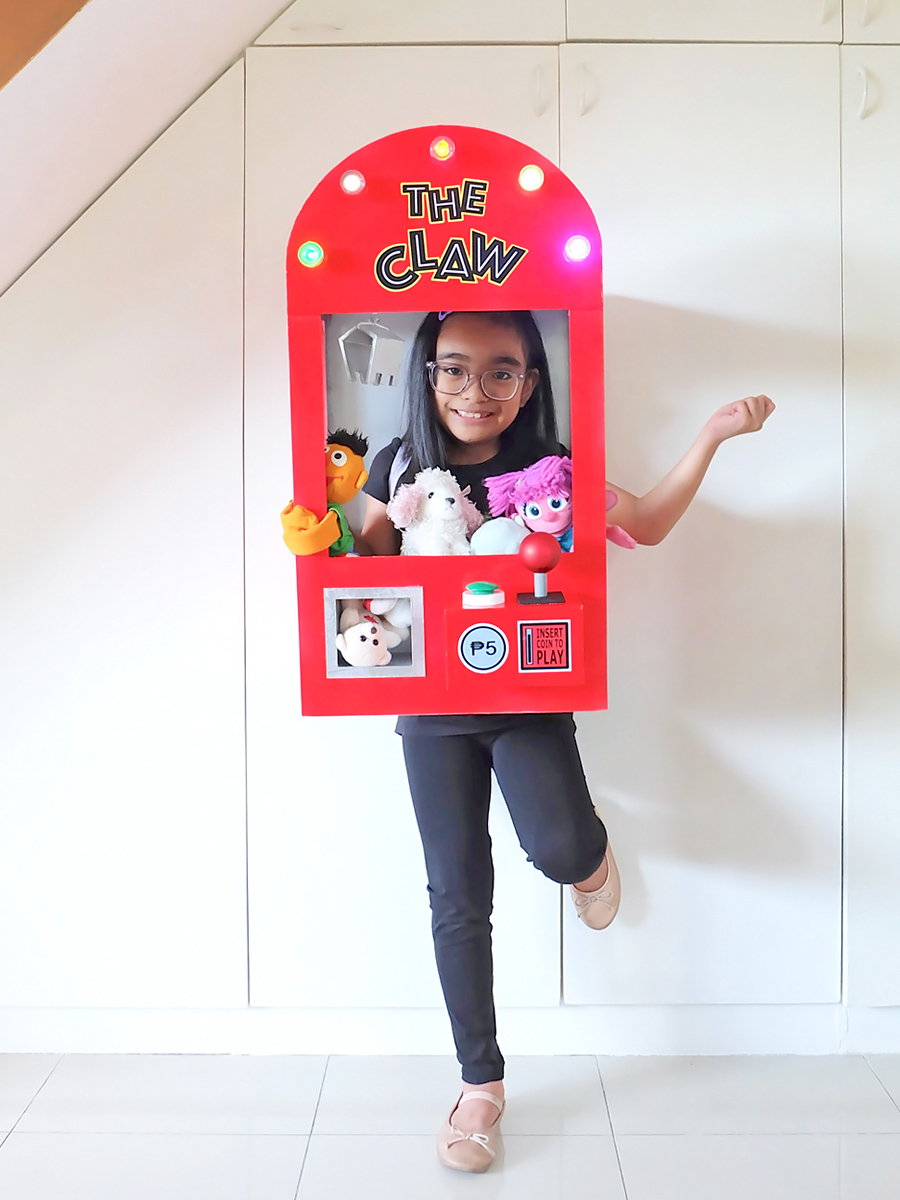 For the controls, we used random objects we could find at home. We glued on a small red box to the front, then added the button made from a white medicine bottle cap and a green plastic magnet. The joystick was made from a small red Christmas ball, glued to the cap of a gray Crayola marker. We secured it to the box with a square foam board piece, spray painted black. We then constructed the claw using foam board and string, spray-painted silver, then attached it to the roof of the claw machine.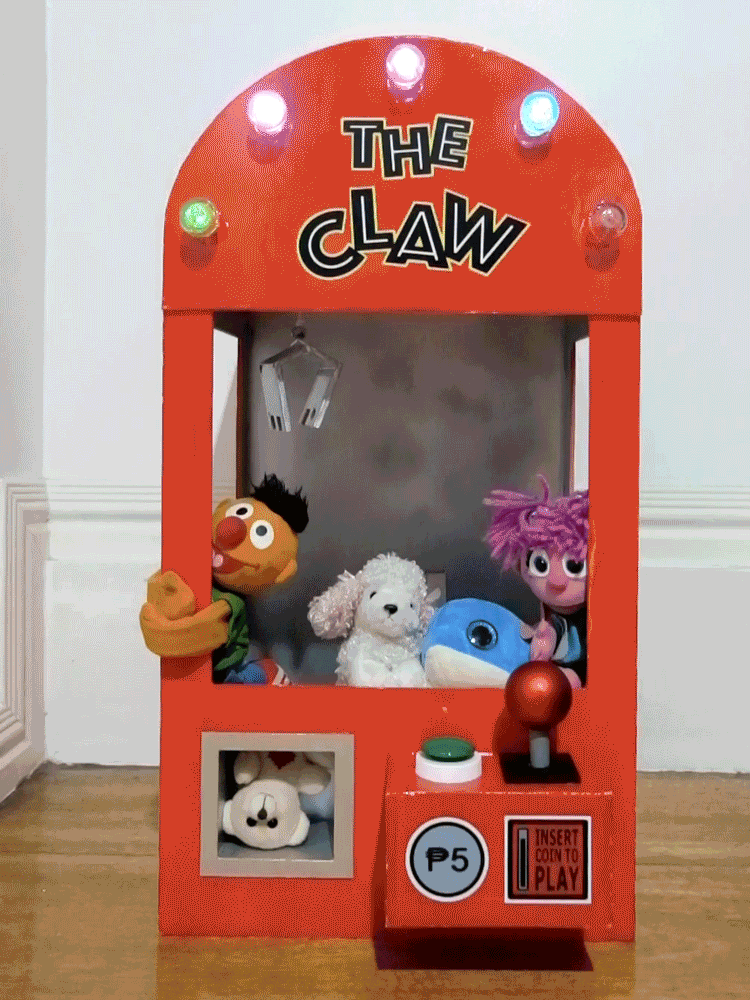 For the finishing touches, we added some printed graphics and color changing mini LED light bulbs. The battery-operated plastic LED lights were an inexpensive find and definitely gave the whole costume more character.
Zoë's favorite part? Choosing which stuffed toys to add to the costume!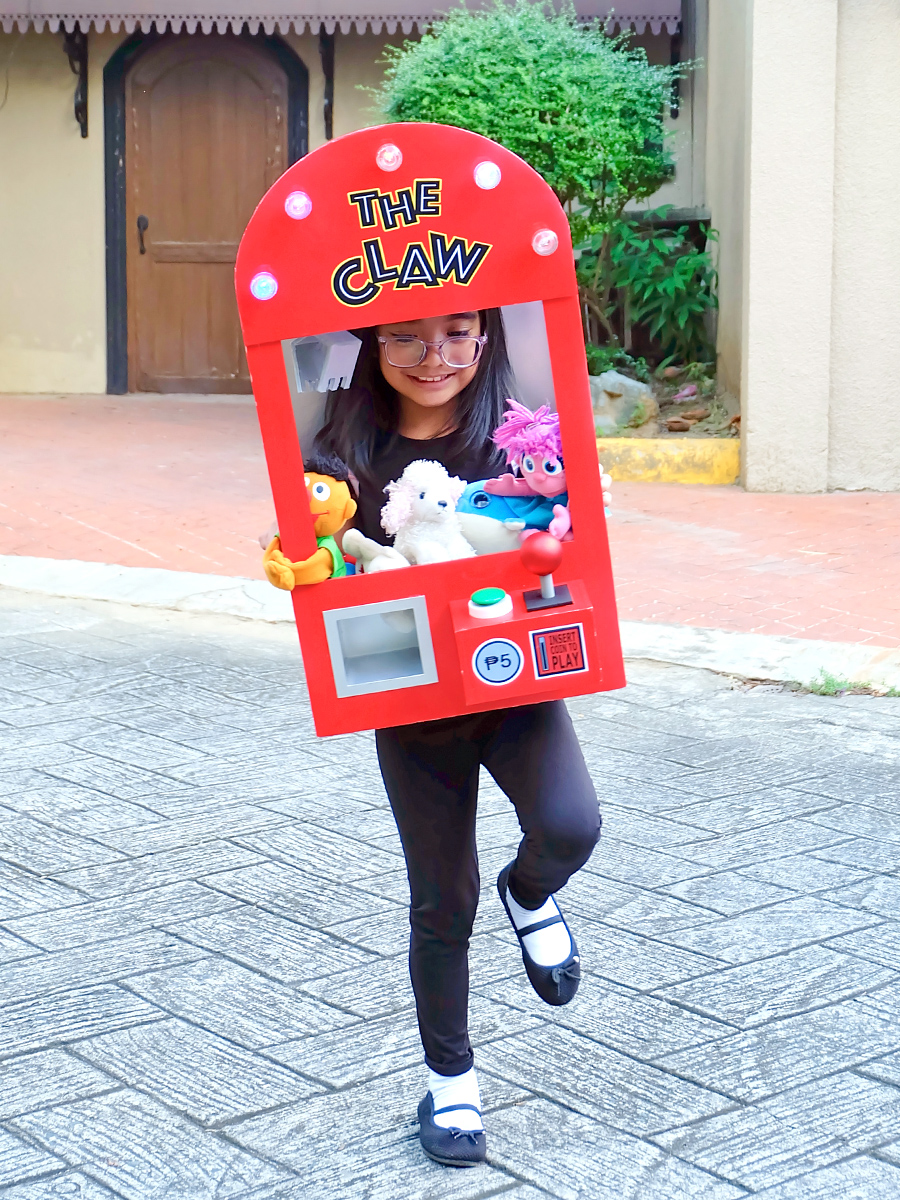 To make lugging the costume around easier for Zoë, we added straps to the back panel and made it so she could wear and carry it like a backpack. She found the costume pretty easy to walk around in, and it wasn't heavy, too.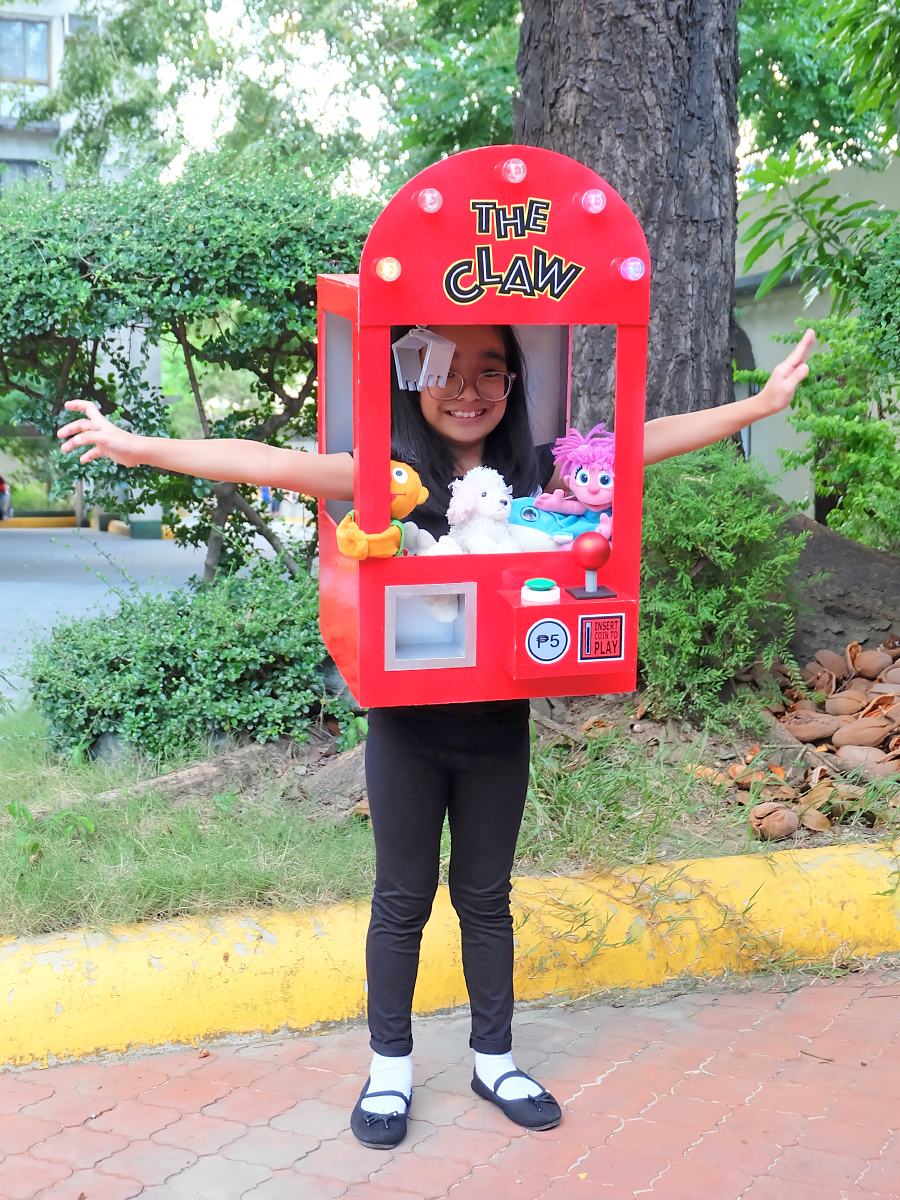 Zoë loved her claw machine! She proudly wore it during her school's costume day, and it was a huge hit with her schoolmates and friends! She even brought it along to two other Trick or Treat parties, and although she only put it on for a few minutes each time (she wanted to run around and play freely), she was so proud to show everyone her cool costume.