Move over orange and black, we're breaking Halloween rules and getting glammed up in PINK! Why be boring when you can be flamazing, right?
Flock this way and check out Zoë's DIY Flamingo Costume.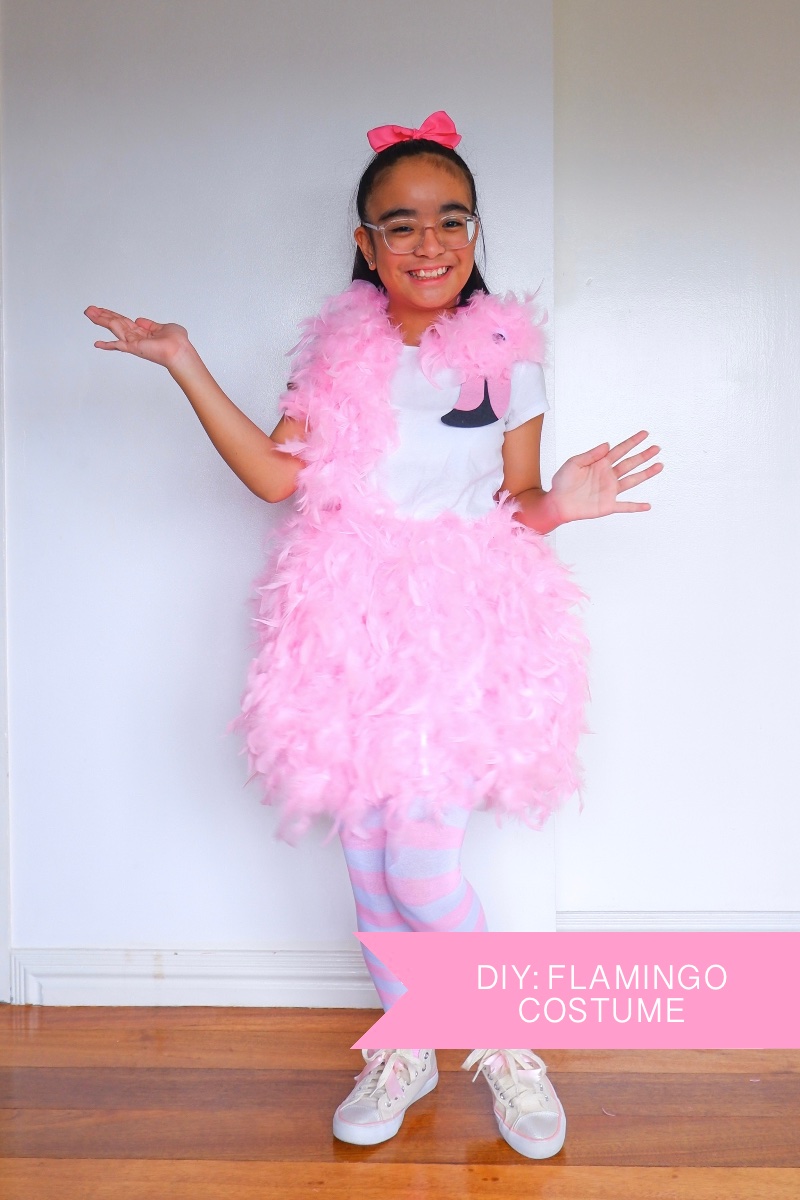 After over two years of being stuck at home during the pandemic, this Halloween sure feels extra special for Zoë. Physical school is finally back on, which also means actual Halloween parties in person, yay! This time Zoë wanted something girly, cute, and fun. When she said she wanted pink, I knew it had to be a flamingo. It definitely fit the bill! 😀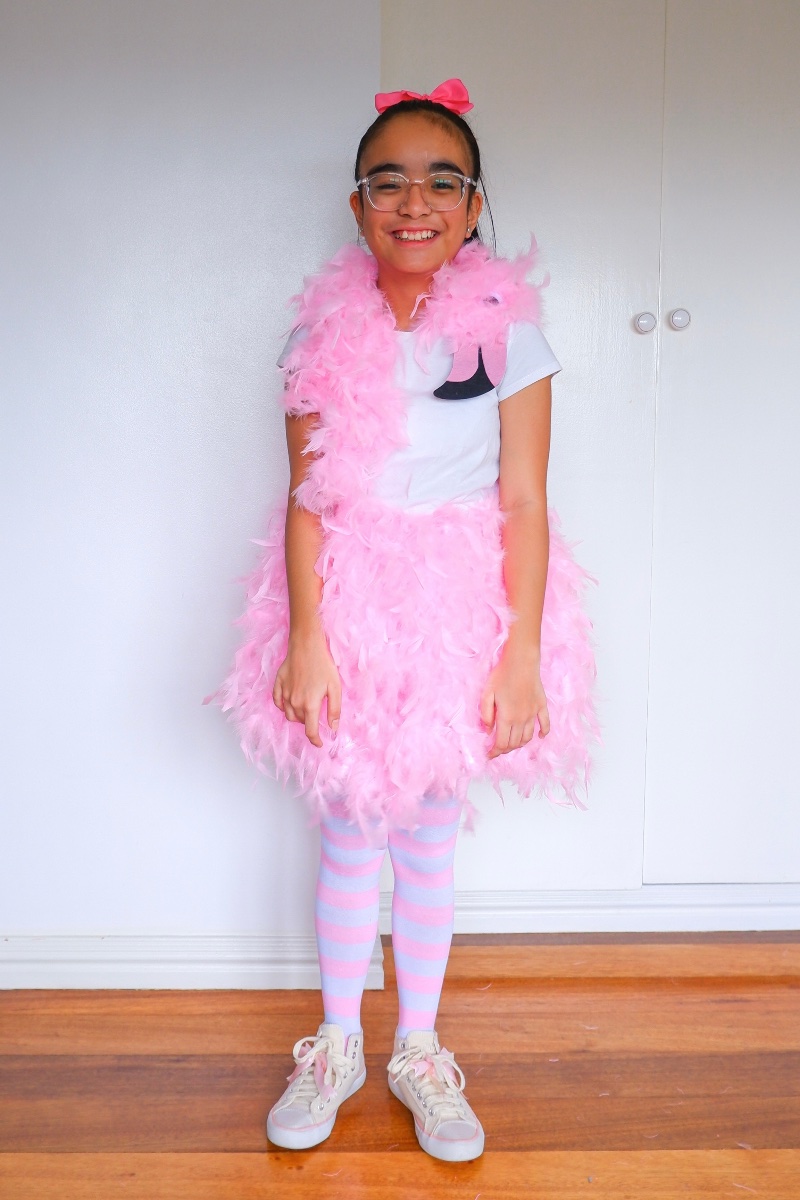 Quick and easy, this costume took me less than hour to make. Yup, easy peasy! There was no sewing involved, too!
Materials Used:
Pink feather boas
Elastic
Black felt sheet
Pink felt sheet
White felt sheet
Pink & white striped socks
White T-shirt
White shorts
Scissors
Fabric glue
To Make the Flamingo Costume: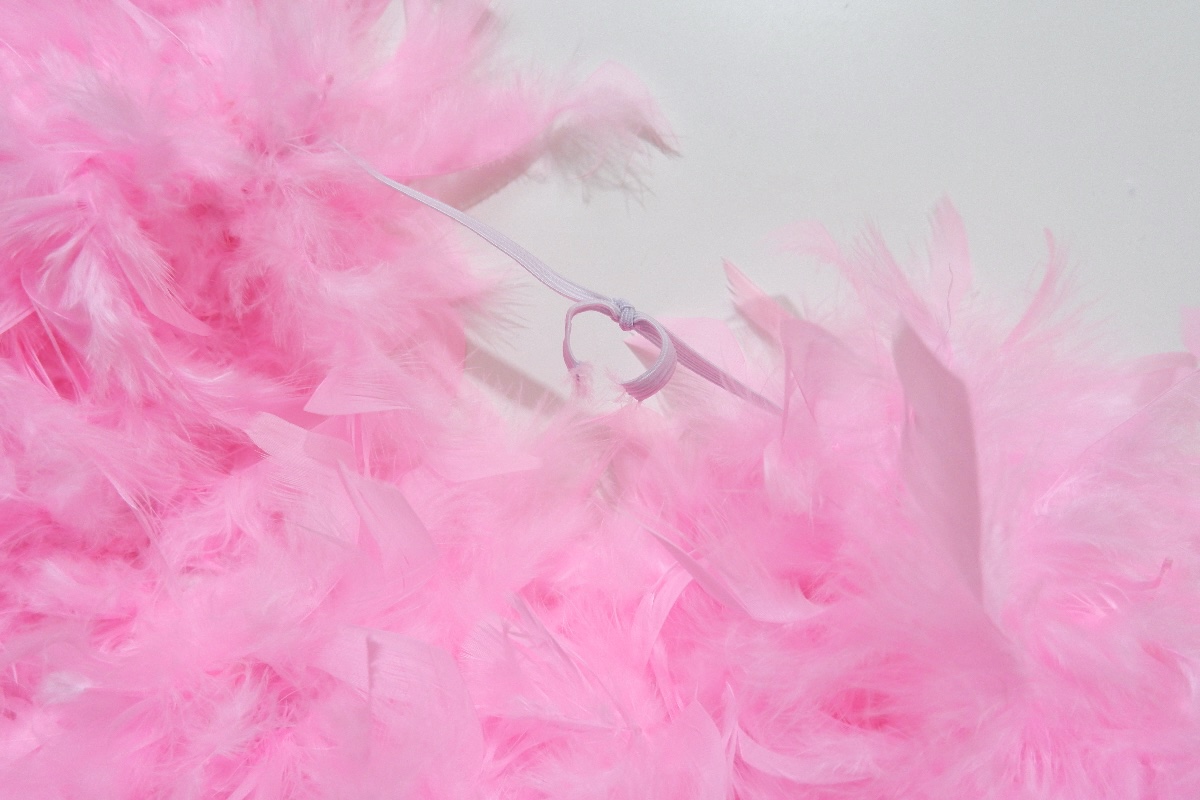 Step 1: Make the Feather Tutu Skirt
Make the waistband by tying the ends of an elastic together. This is pretty straightforward, just make sure it fits snugly around the waist, and double the knot so it stays in place.
Cut a strip of feather boa twice the length of how long you want the tutu skirt to be. So if you want the skirt to be 14 inches from the waist, cut it around 28 inches. Fold the feather boa in half and loop it around the elastic. Repeat with as many half feather boa strips around the elastic until you are satisfied with the fluffiness. I used a total of 6 feather boas for ours since the boas I had were quite thin, but you can adjust depending on how fluffy you want yours.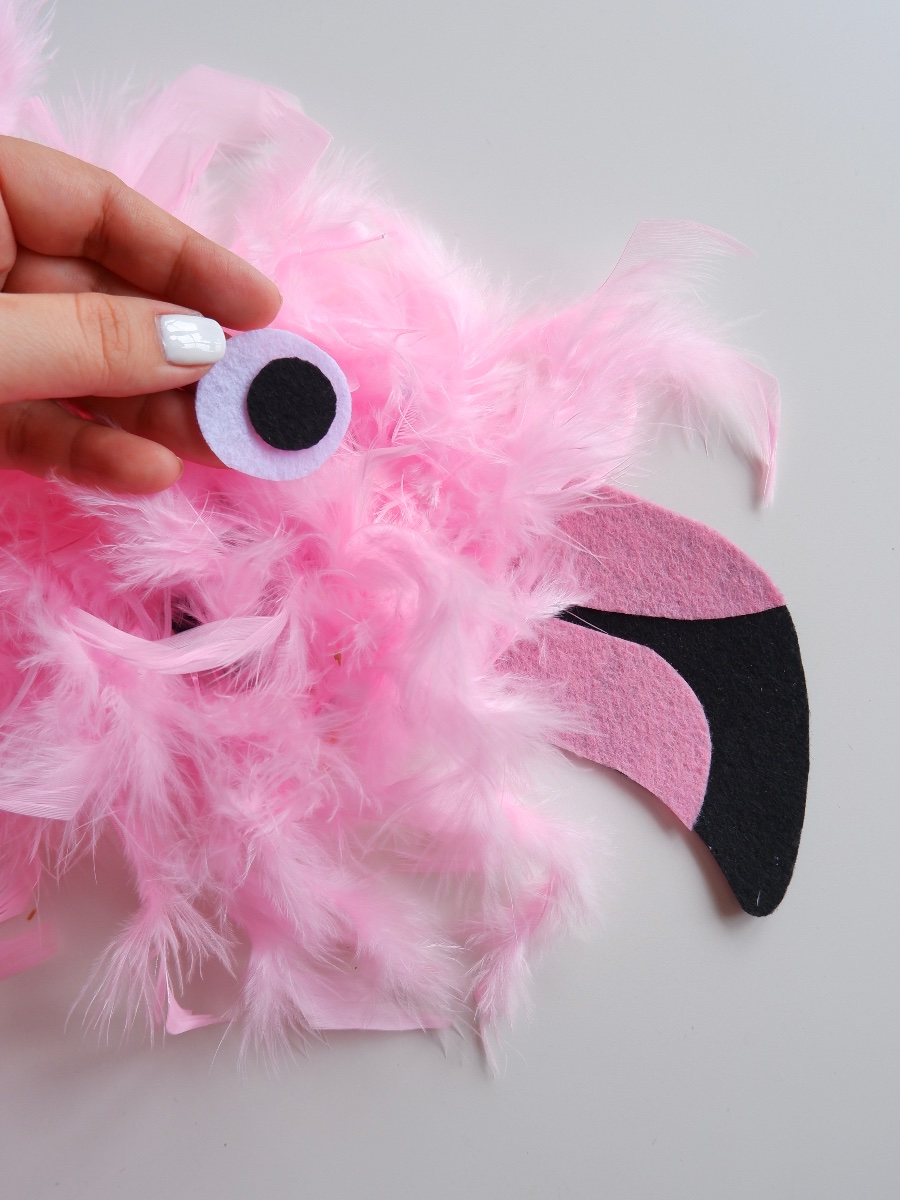 Step 2: Make the Flamingo Head and Neck
Cut out the beak shape on black felt, then glue on the detail using pink felt. I used fabric glue, but you may also use hot glue. Make the eyes by cutting out a big circle using white felt, and a smaller one using black felt, then glue together. If you have big googly eyes on hand, you may use that instead.
To complete the head and neck, take another long strip of feather boa and glue one end to the beak. Finish it off by gluing the eye, and you're done!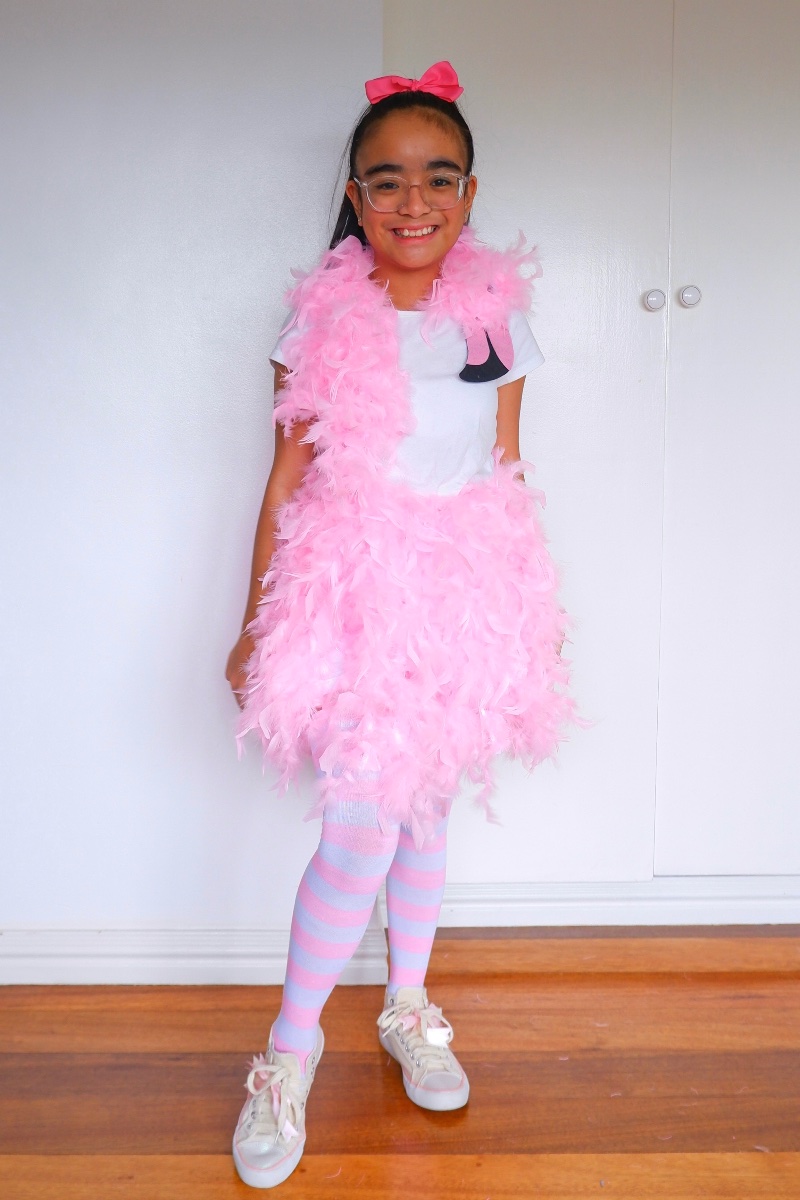 Step 3: Assemble
With everything done and ready, it's time to assemble! Put on your white shirt and shorts underneath. Slip on the feather tutu skirt, then drape the flamingo head around your neck while tucking the other end under the skirt. You may leave it as is, or secure the head to shirt with a safety pin, double sided tape, or by adding velcro like what I did.
Finish off the look with pink & white striped socks, cute & comfy shoes, and voilà, you're all ready to flamingle!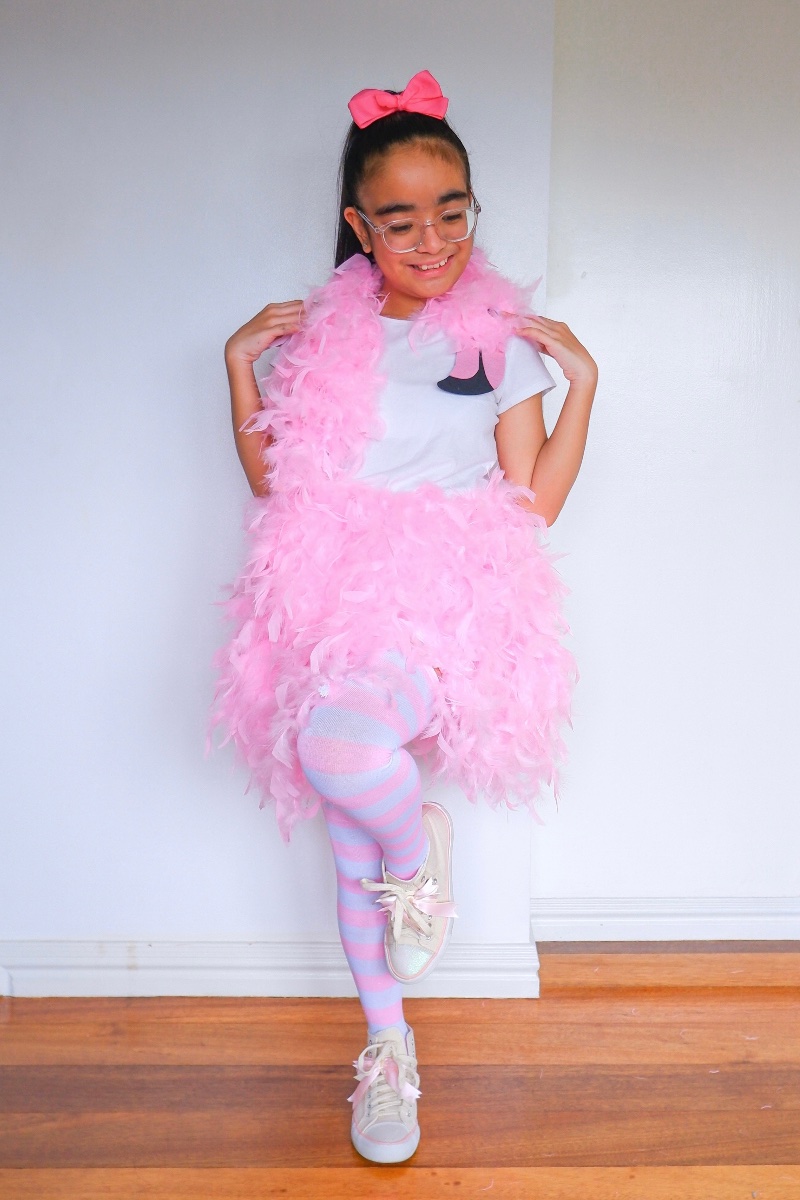 Zoë's one happy flamingo, all ready to go trick or treating with her flock!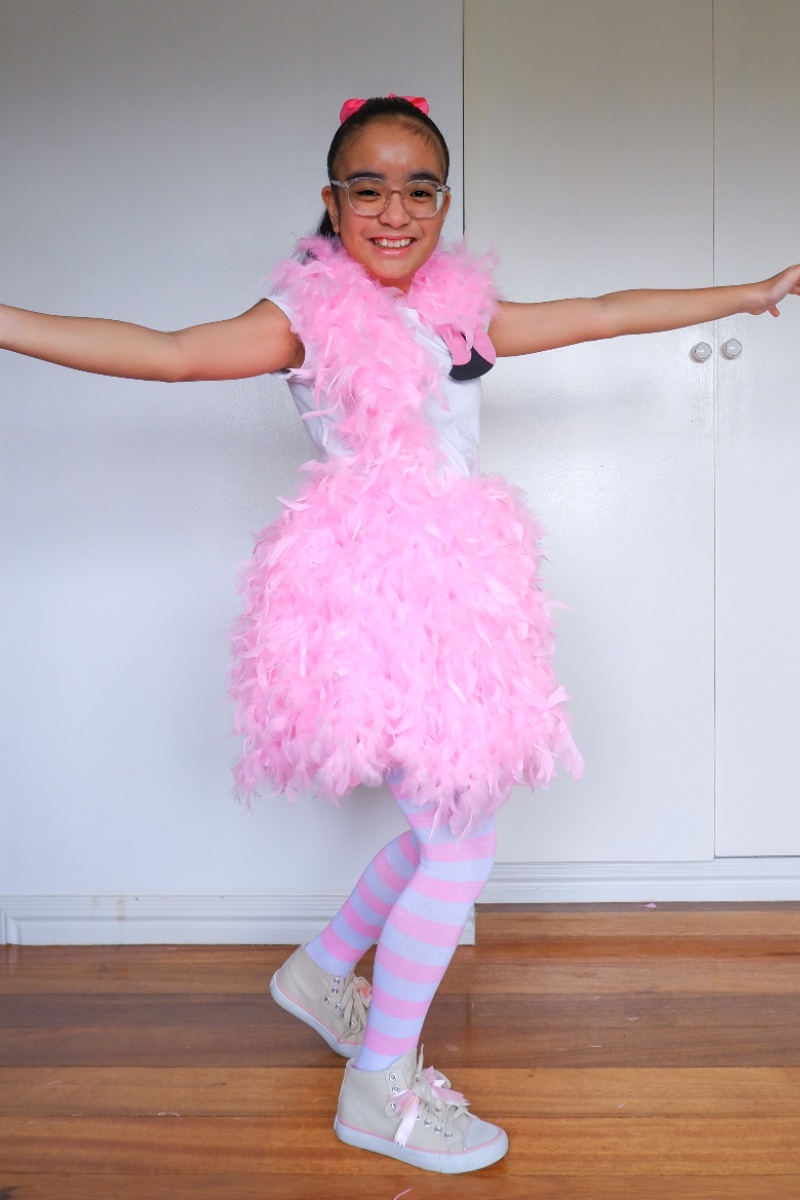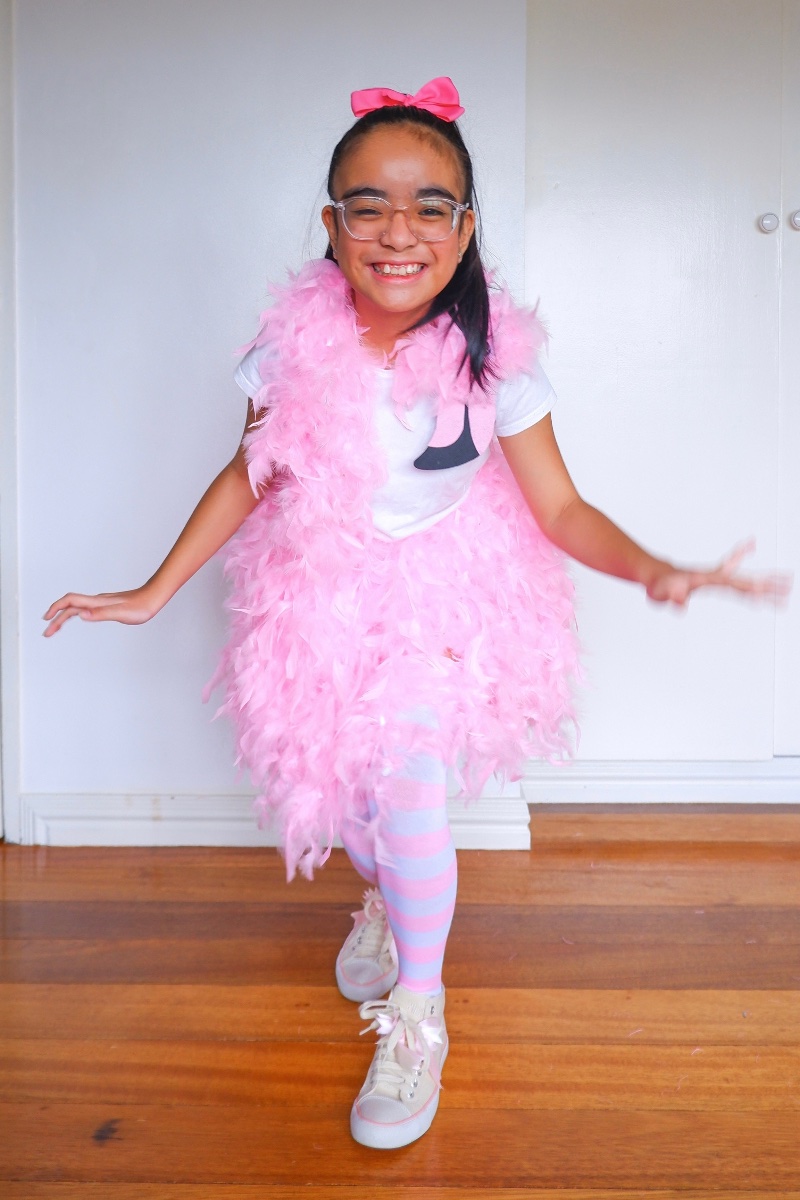 ** Warning: This costume is the cutest, but be warned, the feathers shed like crazy!
Check out our other DIY costumes: